Store-bought phyllo (filo) dough is generally pile of extremely thin, delicate sheets of dough that need careful handling. But in my cooking classes in Greece, we always made phyllo dough that is more like regular pie crust. It's not as flaky, but it's delicious and much easier to work with.
Yield: dough for two pies
Time: 15 minutes plus time to rest
Tools
stand mixer with dough hook
clean kitchen towel
Ingredients
4 c all-purpose flour
1 scant t salt
1½ c warm water
¼ c olive oil
2 T wine vinegar or fresh lemon juice, strained
Directions
Combine flour and salt in the bowl of the stand mixer and start mixing at low speed.
Gradually add the other ingredients and increase speed slightly. Let mix for 3-4 minutes, then check the consistency. It should be smooth and just slightly sticky, and when pressed lightly, the dough should spring back. If it's too dry, add a bit more water; too wet, add more flour.
When the dough is ready, cover and let sit at room temperature for at least an hour before using.
Notes
If making Spanakopita, you'll only need half of this dough; dust the other half with flour and refrigerate. Bring to room temperature again before using.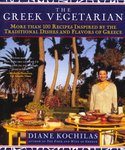 Adapted from the recipe for "Homemade phyllo dough" in The Greek Vegetarian, by Diane Kochilas.
Buy it:
Help
Abbreviations | Conversions | Cooking tips