Cashew butter lovers beware – these muffins are delicious and totally addictive.
Yield: 12 muffins
Time: 30 minutes
Tools
Ingredients
½ c plus 2 T non-dairy milk
¼ c orange juice
2 t ground flaxseeds
1 t orange zest
⅓ c plus 1 T sugar
⅓ c brown sugar, packed
⅓ vegetable oil
⅓ c smooth cashew butter
1 c plus 2 T flour
1 t cardamom
¾ t baking powder
½ t baking soda
½ t salt
¼ t cinnamon
Directions
Preheat oven to 350. Lightly oil the muffin pan or drop in paper liners.
Combine milk, orange juice, flaxseeds, and zest and beat until frothy. Add both sugars, oil, and cashew butter and beat another minute.
In another bowl, combine remaining ingredients.
Gradually add dry ingredients to wet and beat for about 2 minutes. Fill muffin cups about ⅔ full and bake for 22-24 minutes.
Let cool for about 10 minutes and then enjoy warm.
Notes
I think this recipe makes a terrific breakfast muffin, but it's actually just a frosting-less version of a recipe for Cashew cardamom cupcakes.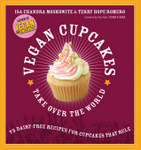 I suspect it would also be good with other nut butters, like peanut butter or almond butter.
Adapted from the recipe for "Cashew butter cardamom cupcakes with rich cashew butter frosting" in Vegan Cupcakes Take Over the World – read my review.
Buy it:
Help
Abbreviations | Conversions | Cooking tips