This "lamb" curry is made with seitan and is spicy and delicious. It's a good idea to prepare and measure out all of the ingredients ahead of time as they get added very quickly.
Yield: 2 servings
Time: 30 minutes
Tools
large sauce pan, wok, or Dutch oven – with lid
wooden spoon
Ingredients
3 T peanut oil
3 whole cardamom pods
2-inch cinnamon stick
small onion, peeled and minced
3 cloves garlic, peeled and crushed
2-inch piece ginger, peeled and grated
1 t ground coriander
1 t ground cumin
¼ t cayenne
¼ t turmeric
4 T plain yogurt
1 medium tomato, peeled and minced
8 oz seitan, drained
1½ c vegetable stock
salt
½ t garam masala
4 T heavy cream or more yogurt
2 T cilantro or parsley
Directions
Heat oil over medium-high heat, add cardamom and cinnamon, stir once, and add onion. Sauté, stirring constantly, until onion begins to turn brown.
Stir in garlic and ginger, sauté 30 seconds, and add coriander, cumin, cayenne, and turmeric. Stir for a moment, then begin adding yogurt, 1 T at a time, stirring each time until it's gone.
Add tomato and cook until soft and thick. Add seitan, stock, and a bit of salt.
Bring to a boil, cover, turn to low, and simmer for 15 minutes.
Stir in garam masala and cream, garnish with cilantro, and serve over rice.
Notes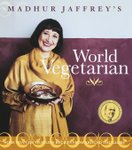 Adapted from Madhur Jaffrey's World Vegetarian.
Buy it:
More: Mock meat recipes
Help
Abbreviations | Conversions | Cooking tips