A simple but incredibly delicious sweet and spicy dipping sauce.
Yield: 1 cup
Time: 10 minutes
Tools
Ingredients
½ c brown sugar
⅓ c soy sauce
2 T tomato paste
2 T white vinegar
2 T onion, minced
2 T fresh ginger, minced
1 T chile paste, preferably sambal oelek*
Directions
Heat sugar and soy sauce over medium heat, stirring frequently, until the sugar dissolves, 2-3 minutes.
Let cool, then whisk in remaining ingredients.
Notes
Serve with corn fritters, spring rolls, or another dip-worthy recipe.
* If you don't like spicy, you can substitute miso.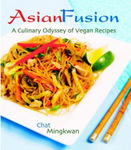 Adapted from the recipe for "chile soy sauce" in Asian Fusion (read my review).
Buy it:
Help
Abbreviations | Conversions | Cooking tips