A culinary odyssey of vegan recipes
Vegan cookbook review
If you think Asian cuisine is out of bounds for vegans, think again. Chat Mingkwan's Asian Fusion offers a huge variety of recipes from over a dozen countries – as well as a fascinating look at the similarities and sometimes very subtle differences between their cuisines.
This is truly a cookbook for people who are serious about learning how to cook Asian food. The introductory matter includes more than 20 pages of information about typical ingredients and acceptable substitutions – if any – as well as a couple of pages about special equipment like clay pots and woks. In addition, some of the recipes are quite elaborate, and many have long, rather daunting ingredient lists, making this a good cookbook for more experienced cooks.
Rather than being limited to just a few of the better-known cuisines, Asian Fusion offers a chapter for each of 13 countries:
Burma – nutty snacks, split-pea cakes, dried sour curry…

China – almond cake, Chinese pancakes, steamed tofu with ginger…

India – dosa masala, mango chutney, parathas…

Indonesia – corn fritters with chile soy sauce, spiced coconut, mushroom satay…

Japan – green beans with sesame, hot pot with udon noodles, tempura…

Korea – kimchi, stuffed eggplant, stir-fried vermicelli…

Laos – green papaya salad, tom ponh (eggplant dip), braised eggplant…

Malaysia – mushrooms in tamarind sauce, spicy fruit salad, otak otak (spiced mousse), …

Philippines – vegetable adobo, pancit noodles, sweet potato fritters…

Singapore – martabak (stuffed flat bread), papaya salad, yu sang (shallot-ginger salad)…

Sri Lanka – pickled eggplant, okra curry, spiced coconut custard

Thailand – coconut-banana ice cream, green curry patties, roasted pineapple…

Vietnam – braised mushrooms, herbed noodles, clay-pot eggplant…
I particularly like the notes about each recipe, usually explaining how it fits into its country's cuisine and how other cuisines have influenced it. I also appreciate the inclusion of similar recipes from different countries; for example, Chinese hot and sour soup and Indonesian hot and sour soup, Indonesian yellow rice and Malaysian golden rice, spring rolls from both China and Singapore, plus curries and assorted rice recipes from just about everywhere.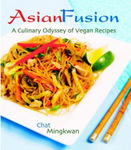 If you love Asian food and want to learn more about it, Asian Fusion is just the cookbook for you.
Buy Asian Fusion: