A quick and easy side dish for any Middle Eastern meal.
Yield: 6 servings
Time: 20 minutes
Tools
medium-sized, heat-proof bowl
lid or plate
fork
Ingredients
1½ c couscous
pinch of salt
3 c boiling water
2 T olive oil, vegan butter, or margarine
4 oz dried fruit, such as cranberries (pictured), raisins, or apricots
2 green onions, thinly sliced
½-1 t curry powder
pepper
Directions
Pour couscous into bowl, sprinkle with salt, and quickly pour the boiling water on top. Cover and let sit for 15 minutes.
Fluff the couscous, then stir in remaining ingredients.
Serve hot.
Notes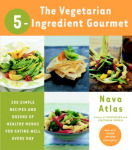 Adapted from the recipe for "Fruited couscous" in The Vegetarian 5-Ingredient Gourmet – read my review.
Buy it:
Help
Abbreviations | Conversions | Cooking tips