Black beans, zucchini, and a bit of cheese sandwiched between two tortillas – this may be the best quesadilla you've ever tasted.
Yield: 4 quesadillas
Time: 15 minutes
Tools
grater
colander
large bowl
large frying pan(s) or baking sheet
basting brush or rubber spatula
Ingredients
2 pounds zucchini, grated
1½ t salt
30 oz cooked or canned black beans, drained
12 oz Monterey Jack, grated
2 green onions, chopped
1 jalapeño, minced
8 eight-inch corn or flour tortillas
olive oil
Directions
Toss zucchini with salt in the colander, and squeeze out excess water.
Combine zucchini with beans, cheese, green onions, and jalapeño.
Brush one side of each tortilla with oil. Place four tortillas oil side down and spread each with one fourth of the zucchini-bean mixture. Top each one with an oil-side-up tortilla.
To Cook
1. Stove: place one quesadilla in a frying pan and cook over medium heat for 3 minutes on each side, until golden.
2. Broiler: Place quesadillas on baking sheet and broil about 1-2 minutes per side, until golden.
Notes
Serve quesadillas with salsa and Spanish rice for a hearty meal.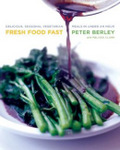 Recipe from Peter Berley and Melissa Clark's Fresh Food Fast: Delicious, seasonal vegetarian meals in under an hour.
Buy it:
Help
Abbreviations | Conversions | Cooking tips