Tender seitan rolled around tofu ricotta, herbs, and onions, then baked in tomato sauce. A bit complicated, but worth it!
Yield: 6 servings
Time: an hour
Tools
small frying pan
wooden spoon
small bowl
toothpicks or unbleached white string
baking dish
very sharp knife
Ingredients
Directions
Heat oil over medium-high heat, add onions, and sauté until golden. Set aside.
Combine ricotta and garlic and set aside.
Preheat oven to 325.
Lay out each piece of seitan on the counter. Spread each piece with ¼ to ½ of the ricotta (depending on how many pieces of seitan you have).
Divide half the bread crumbs between each piece, then top with onions and herbs.
Carefully roll up each piece of seitan into a long tube, and secure it with toothpicks or string.
Transfer to baking dish, top with marinara, and sprinkle with breadcrumbs.
Bake for 35 to 45 minutes, until hot and bubbly.
Let the braciole cool for a few minutes, then carefully cut into slices and serve.
Notes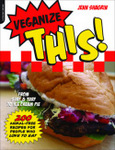 Adapted from the recipe for "Vegan braciole" in Jenn Shagrin's Veganize This! (read my review).
Buy it:
Help
Abbreviations | Conversions | Cooking tips