From surf & turf to ice cream pie, 200 animal-free recipes for people who love to eat
Vegan cookbook review
No matter how long you've been vegan and how well you cook, there are probably still a few off-limits dishes that you remember fondly from childhood – or last year. If this sounds like you, and you're ready to try making vegan versions of meaty meals, Jenn Shagrin's Veganize This! is just the cookbook for you. Despite the rather cheesy cover, this book is filled with intensive, gourmet recipes (and adult language).
In chapter 1, Hail Seitan! and his followers, you'll learn how to make seitan taste like any of half a dozen different meats, turn tofu into seafood, create non-dairy cheeses, and hatch chicken-free eggs. These foundational recipes are used for the more elaborate recipes in the other 5 chapters.
Recipes guaranteed to get you laid – eggplant parmesan ravioli, two different lasagnas, surf and turf, Dijon-crusted "beef" tenderloin with béarnaise sauce…

Satisfying the vegan munchies – seitan braciole, eggplant-lasagne style deep-dish pizza, chicken-fried tofu steak, cheesy sweet onion and tomato pie, vegan Doritos…

Vegan holiday survival kit – kugel; green bean casserole; butternut squash risotto; pumpkin tartare over chickpea-cumin crêpes; chestnut, rye, and "pancetta" stuffing…

Grillin' & chillin' – "veal" sliders, "pork" chops, burgers, steak, short ribs, buffalo "chicken" wings, "tuna" and bean salad, "crab" tostadas…

Get baked – peanut butter pie, homemade marshmallows, brioche, Belgian waffles, carrot pudding, salt-pecan pralines, vegan Twinkies…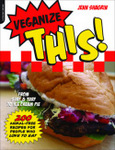 Veganize This! includes a number of truly inspired and unusual vegan versions of meat, egg, and cheese dishes. Unfortunately, some of the mock cheeses (like vegan goat cheese) require several store-bought non-dairy items (vegan cream cheese, soy feta, vegan sour cream), which kind of defeats the purpose, but fortunately these are kept to a minimum.
If you're ready to veganize everything from pork chops to pancetta, you're ready for Veganize This!
Buy Veganize This!: Amazon.com | Amazon.co.uk