Thick and creamy sauce for casseroles, pasta, and veggies.
Yield: 4 servings
Time: 5 minutes
(after the cashews are soaked)
Tools
Ingredients
1 c raw cashews, soaked for 3 hours and drained, or ½ c plus 2 T cashew butter
1 pound silken tofu, drained
3 cloves garlic, chopped
2 T lemon juice
1 T olive oil
2 t cornstarch
1 t salt
¼ teaspoon ground nutmeg (plus more for garnish)
Directions
Place everything in the blender and process, stopping and scraping down the sides as needed, until smooth.
Use for
You can make a thinner, lighter version with non-dairy milk or vegetable stock: Béchamel sauce.
Notes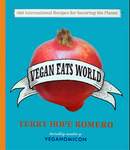 Adapted from the recipe for "Silken almost-bechamel topping" in Vegan Eats World – read my review.
Buy it:
More: Mock dairy recipes
Help
Abbreviations | Conversions | Cooking tips