Christmas Recipes and Menu Ideas
Whatever is served at a traditional Christmas dinner, meat probably holds pride of place, and what good is that to us veggies? Here are some ideas to mix and match for a vegetarian-verging-on-vegan Christmas menu.
Appetizers
Bell Pepper Soup
A delicious, colorful soup made with sweet peppers that can be served hot or cold.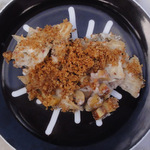 Celeriac Chestnut Gratin
Celeriac (celery root) and chestnuts combine their earthy flavors for a uniquely rich winter dish, perfect for a special occasion.

Cheese Balls
Delicious cheddary vegan cheese rolled into balls and coated in your choice of nuts or herbs.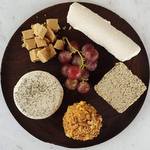 Cheese Plate
Cheese plates can be simple or elaborate, with dozens of different cheeses or just a few. There's no one right way to make a vegan cheese plate, but these guidelines can help you put together a cheese plate you and your guests will never forget.

Chestnut Lentil Pâté
A rich and slightly sweet vegan pâté.
Christmas Salad
This red, white, and green salad will help spread Christmas cheer.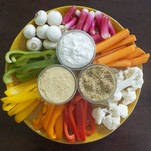 Crudités
A platter of crudités typically consists of one or more types of raw vegetables served with one or more dips. These can be served as an appetizer, at a buffet, in place of a salad – the sky is the limit. Here are some ideas for interesting crudité platters.

French Onion Soup
Traditional French onion soup is made with beef broth, but this vegan version is just as flavorful.
Garlic Soup
This garlic soup is as good as anything you've ever had in a restaurant – it is wonderfully rich and velvety.
Mashed Potato Balls
Delicious soft balls of mashed potato coated in breadcrumbs and filled with a savory surprise.

Minestrone Soup
This classic Italian soup is always vegan, as long as you leave off the parmesan cheese.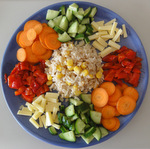 Rice Salad
This is a very simple but lovely dish. Kids will especially like making their own salad by picking their favorite items.

Roasted Chestnuts
Roasted chestnuts are such a traditional winter treat that there's a song about them – sing along as you roast your own chestnuts.
Bread
Buttermilk Biscuits
There's nothing quite like buttermilk biscuits hot out of the oven.
Cornbread
Hot corn bread is absolutely delicious topped with cream cheese.
Dinner Rolls
I find that the nicest meals are always nicer with some bread in my hand, preferably warm from the oven. This is the simplest recipe I've found.
Popovers
Recipe for popovers, perhaps the simplest and quickest way to enjoy fresh bread hot from the oven.
Main courses

Cabbage Rolls
Normally filled with a mixture of ground beef and rice, cabbage rolls are a staple in Eastern Europe and a favorite in many other countries. Try these vegetarian cabbage rolls stuffed with vegetables for an equally tasty main course.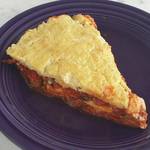 Eggplant Gratin
Eggplant layered with tomato sauce and topped with saffron custard makes an elegant and delicious main course.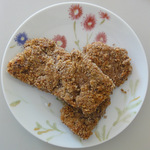 Hazelnut-Crusted Seitan
Tender seitan with a crisp, nutty crust: so delicious you'll feel like saving it for special occasions, but quick and easy enough for any day of the week.

Lasagna
Lasagna is basically a casserole made with layers of flat noodles, vegetables, cheese, and sometimes meat. There are a million variations on lasagna; here are some vegetarian favorites.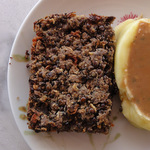 Lentil "Meat"loaf
A healthy, delicious veggie "meat"loaf made with lentils.
Moussaka
Moussaka is a Greek dish traditionally made with lamb or beef. This vegetarian / vegan moussaka recipe uses portobello mushrooms and seitan instead. A rich and delicious main course.

Pot Pie
This pot pie recipe is better than the TV dinner version for two reasons: it's vegan and it's prepared and baked, rather than frozen and microwaved. It's also quick and flexible, so give it a try.
Ratatouille
The perfect recipe to enjoy fresh vegetables and herbs; it can be served half a dozen different ways.

Shepherd's Pie
This vegetarian shepherd's pie recipe is a simple yet delicious lambless version of the real thing.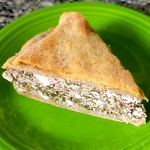 Spanakopita
Vegan variation on a classic recipe from Greece: rich and delicious spinach-"cheese" pie.
Vegetable Gratin
This hearty dish is made with pasta and grilled vegetables and topped with melted cheese.

Winter Squash Risotto
Risotto isn't difficult to make, but it does require a lot of standing at the stove, stirring away. The end result, however, is delicious and a wonderful comfort food.
Side dishes

Gravy
This simple, nut-based gravy recipe will satisfy your cravings at Christmas or any other time of year.

Mashed Potatoes
Mashed potatoes are the ultimate comfort food. They're quick and easy and the soft texture makes me feel like a kid. They're also a great base for all kinds of variations like vegan mashed potatoes and garlic mashed potatoes.

Potato Celeriac Purée
The creaminess of mashed potatoes enhanced with the earthiness of celeriac.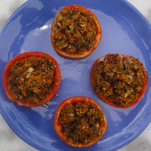 Provençal Tomatoes
These stuffed tomatoes from southern France are delicious served with soup, pasta, or rice dishes.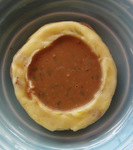 Sage Gravy
A simple, traditional gravy that vegans, meat eaters, and everyone in between will love.
Stuffed Sweet Potatoes
Make the most of the sweet potatoes available in winter – these stuffed sweet potatoes are sweet and buttery.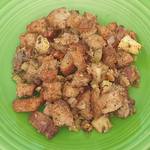 Stuffing
Stuffing doesn't have to be cooked inside a turkey – this vegan bread stuffing with apples and walnuts is delicious baked as a casserole.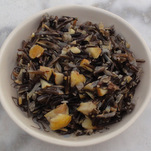 Wild Rice with Chestnuts
Earthy wild rice pairs beautifully with sweet chestnuts.
Dessert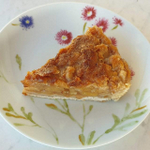 Apple Pie
For me, autumn and early winter = apples, and I can't think of a better way to enjoy them than in a homemade apple pie.
Ginger-Brandy Cheesecake
Sweet, rich cheesecake with a ginger snap crust and orange glaze.
Gingerbread
Moist and spicy, gingerbread is a perfect Christmas treat.
Mincemeat
Make a big batch of vegetarian mincemeat so that you can make a few pies and have some left over to serve with ice cream, custard, pudding, or crêpes. You can also can or freeze it for later.
Plum Pudding
Plum pudding is a traditional Christmas dessert in the UK, and is normally made with suet. Julia Child's version shows that there's no reason plum pudding can't be vegetarian.
Drinks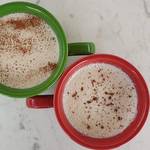 V'Egg Nog
Rich and creamy vegan version of a traditional holiday drink.
Mulled Wine
Warm, spicy mulled wine is a wonderful winter drink.

Tips
Adaptable Recipes
Meals with a mixed group of vegetarians and non-vegetarians can require a lot of extra effort from the cook. However, you can save a lot of work by making similar dishes for both groups – a vegetarian version and a meat version. Here are some vegetarian recipes that lend themselves easily to meat additions.
Dealing with Vegetarians
If you're not a vegetarian, the thought of cooking for or eating with someone who is may seem rather daunting. In fact, it's really not that difficult, if you follow a few simple guidelines and use common sense.