Meals with a mixed group of vegetarians and non-vegetarians can require a lot of extra effort from the cook. However, you can save a lot of work by making similar dishes for both groups – a vegetarian version and a meat version. Here are some vegetarian recipes that lend themselves easily to meat additions.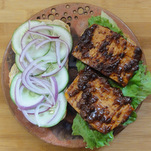 Barbecued Tofu Sandwich
Give this barbecued tofu sandwich a try – you won't believe your taste buds.
For meat eaters: Replace tofu with chicken.
Calzone
A calzone is a turnover or pocket made with pizza dough and filled with veggies, cheese, and pretty much anything else you put on pizza.
For meat eaters: Add pepperoni and/or sausage to some of the calzones.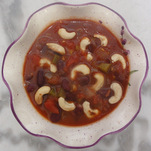 Cashew Chili
Cashew chili is easy, delicious, filling, and vegetarian. What more can you ask for?
For meat eaters: Add chicken or beef to the chili.
Cashew Curry
This vegetarian curry is rich, filling, and delicious, and can easily be made vegan.
For meat eaters: Replace cashews with chicken or lamb.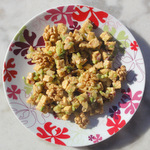 "Chicken" Salad
This simple tempeh salad really does resemble chicken salad. It's great in sandwiches or atop a green salad.
For meat eaters: Replace tempeh with chicken.
Corn Chowder
An extremely rich and filling chowder.
For meat eaters: Add chicken.
Couscous
Couscous is a grain made of semolina commonly eaten in North Africa. This vegetarian version, simple vegetable couscous, is less common, but no less delicious.
For meat eaters: Add meat, fish, or poultry.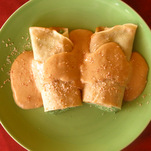 Crêpes
Crêpes are thin pancakes that can be wrapped around just about anything to turn it into an elegant meal, or just folded and topped with something yummy. Try some of these fillings and toppings, or experiment to invent your own.
For meat eaters: Stuff crêpes with various meats, chicken salad, etc.
Dolmades – Stuffed Grape Leaves
When I think of Greek food, dolmades is one of the first thing that comes to mind, followed by the fact that these grape leaves are stuffed with meat. Fortunately, a vegetarian version of stuffed grape leaves is easy and tasty.
For meat eaters: Replace pine nuts, raisins, and olives with beef or lamb.
Eggplant Parmigiana / Parmesan
This classic vegetarian dish is a perfect main course served alongside/atop plain pasta.
For meat eaters: Replace eggplant with chicken.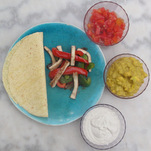 Fajitas
Everyone seems to love "build it yourself" meals, and fajitas are a delicous way to do this. Hot fillings and cold toppings are served with tortillas so that you can mix and match your own fajitas.
For meat eaters: Serve a chicken or beef filling as well.
Fettuccine Alfredo
Alfredo is a rich and creamy Italian sauce, usually served over fettuccine.
For meat eaters: Add ham or prosciutto to the sauce.
Lasagne
Vegetarian lasagne is easy and delicious. Here's a variation on the classic red sauce version, with some extra vegetables.
For meat eaters: Add meat to sauce or include a layer of meat.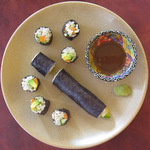 Maki Rolls
Maki rolls are a vegetarian relative of sushi. This recipe calls for cucumber and avocado, but you can experiment with other ingredients as well.
For meat eaters: Add tuna or some other fish.
"Meat" Loaf
This mock meat loaf recipe made with TVP and served alongside mashed potatoes is good enough to fool your non-vegetarian, meat- and- potato-loving friends.
For meat eaters: Serve alongside a traditional meat loaf.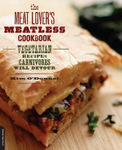 Moussaka
This vegetarian / vegan moussaka recipe uses portobello mushrooms and seitan for a rich and delicious main course.
For meat eaters: Replace mushrooms and seitan with lamb or beef.
Paella
A Spanish dish traditionally made with meat and shellfish. This flexible veggie version is simpler, but no less delicious.
For meat eaters: Add meat and shellfish.
Pizza
Making homemade pizza is one of the best and most creative ways of proving that meat is not a necessary part of a human's diet. Also see my pages on pizza dough and toppings.
For meat eaters: Add meat to one pizza.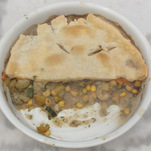 Pot Pie
This pot pie recipe is better than the TV dinner version for two reasons: it's vegetarian and it's prepared and baked, rather than frozen and microwaved. It's also quick and flexible, so give it a try.
For meat eaters: Add chicken, turkey, or beef.
Salade niçoise
Chickpeas or tofu can be used in place of the traditional tuna fish or anchovies for this vegetarian salade niçoise recipe.
Shepherd's Pie
This vegetarian shepherd's pie recipe is a simple yet delicious lambless version of the real thing.
For meat eaters: Replace half of the veggies with lamb.
Spaghetti
What could be simpler than a rich tomato sauce poured over pasta and sprinkled with cheese?
For meat eaters: Pass a plate of grilled sausages.
Split Pea Soup
Vegetarian split pea soup is easy and just as flavorful as the kind made with ham.
For meat eaters: Add ham.
Stuffed Shells
Pasta shells stuffed with cheese, topped with tomato sauce, and baked until bubbly.
For meat eaters: Add meat to sauce, or replace half of the cheese with meat.
Stuffing
Stuffing doesn't have to be cooked inside a turkey – this vegetarian bread stuffing with apples and walnuts is delicious baked as a casserole.
For meat eaters: Cook some of the stuffing in the turkey and bake the rest in a casserole.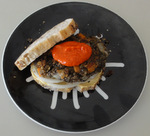 Veggie Burgers
These vegetarian/vegan burgers, made with lentils, are healthy, low-fat, and delicious.
For meat eaters: Make regular hamburgers.
Veggie Sandwich
Whether you're on the run or just don't feel like cooking something, a vegetarian sandwich is just the thing: quick, easy, and as healthy as you care to make it.
For meat eaters: Make ham, turkey, beef, etc. sandwiches to serve alongside.
Related Features
Mock Meat Recipes
Some vegetarians avoid mock meat recipes, while others swear by them. If you're in the latter category, or if you're just interested in trying some vegetarian and vegan versions of typical dishes, take a look at these mock meat and dairy recipes.
Dealing with Meat Eaters
One of the issues faced by many vegetarians is dealing with non-vegetarians. While it's true that some vegetarians will make comments and try to "convert" meat eaters, I think the majority of us see it as a personal choice and accept that some will choose to eat meat and others don't. For some reason, many meat eaters are unable or unwilling to reciprocate in kind, and take it upon themselves to attack or try to "knock some sense into" vegetarians.
Dealing with Vegetarians
If you're not a vegetarian, the thought of cooking for or eating with someone who is may seem rather daunting. In fact, it's really not that difficult, if you follow a few simple guidelines and use common sense.