Authentic Southern cornbread meets dukkah, an Egyptian nut-seed-spice mixture.
Yield: 8-16 servings
Time: 30 minutes
Tools
mortar and pestle
2 medium bowls
wooden spoon
10-inch cast iron skillet
whisk
Ingredients
2 t coriander seeds, toasted
2 t cumin seeds, toasted
7 T pecans or walnuts, toasted and finely chopped
2 T black sesame seeds, toasted
½ t coarse salt
¼ t fine salt
1¾ c cornmeal
¼ c flour
1 t baking soda
1 t baking powder
¼ c plus 1 T melted coconut oil, divided
2 T flaxseeds, ground
6 T water
1 c non-dairy milk
¼ c cashew cream
2 T cider vinegar
1 T orange zest
Directions
Preheat oven to 425.
Combine coriander and cumin seeds in the mortar and smash with the pestle. Transfer to a bowl along with nuts, sesame seeds, salt, cornmeal, flour, and baking soda and powder. Mix well.
Oil the skillet with 1 T oil and place in oven.
In the other bowl, whisk together the flaxseeds and water, then whisk in the milk, cream, vinegar, and zest.
Add wet ingredients to the dry ones and stir until just combined.
Spread into the hot skillet, then bake until golden brown and firm, about 20 minutes.
Serve hot, or make into cornbread croutons.
Notes
The first five ingredients make the dukkah, which you can also use to sprinkle on vegetables or beans for extra flavor.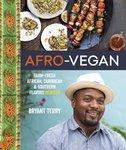 Adapted from the recipe for "Skillet cornbread with pecan dukkah" in Afro-Vegan (read my review).
Buy it:
Help
Abbreviations | Conversions | Cooking tips