by Tamasin Noyes
Vegan cookbook review
If you think a cookout automatically means a vegan's options are limited to corn on the cob and tofu burgers, think again! Grills Gone Vegan is a cookbook like no other, offering creative, delicious vegan fare and helpful tips.
The book includes 125 grill-worthy recipes divided into six chapters:
Starters and small plates: Grilled baby artichokes, Stuffed jalapeños, Polenta stacks…

Soups and sandwiches: Smoky buffalo tofu wraps, Grown-up grilled cheese, Red bell pepper gazpacho…

Main dishes: Seitan and potato salad, Barbecued ribz, Garlic cutlets, Broccoli and cheeze calzones…

Side dishes: Grilled radicchio salad, Smoky packet potatoes, Ethiopian bean skillet…

Desserts: Peach melba, Miniature apple pies, Mexican s'mores…

Rubs, marinades, and sauces: Dry rub, Sweet and spicy marinade, Scallion-tahini dressing…
Each recipe includes instructions for each type of grill, whether outdoor, electric, or just a stovetop grill pan. No grill? No problem! The author explains the pros and cons of the different types to help you choose the right one for your cooking style. There's also a list of essential utensils and ingredients, tips on maximizing grill flavors, and a section on the art and science of grilling, including how to get the grill marks just right.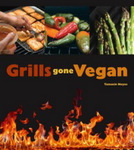 Ready to enjoy a variety of vegan dishes at a summer cookout, Fourth of July feast, or Mexican fiesta? Grills Gone Vegan, by Tamasin Noyes, has everything you need to get started.
Buy it:
Author's website: Vegan Appetite