More than 100 great-tasting and healthy recipes from my family to yours
Vegan cookbook review
Mayim Bialik is an American actress best known for her roles on Blossom and The Big Bang Theory, though she also happens to be a neuroscientist and more importantly—at least from The Veggie Table's point of view—a vegan mom. Mayim's Vegan Table is a collection of tips and simple recipes with a slight emphasis on Jewish dishes.
Nearly a third of the book is informational. The first chapter introduces the health, environmental, and ethical reasons to eschew animal products, while Chapter 2 goes into detail about vegan nutrition and what to use in place of milk, cheese, eggs, and meat-based protein. Chapter 3 offers easy meal tips for breakfast, lunch, dinner, and snacks, paying particular attention to kids' nutrition and enjoyment, and Chapter 4 explains how to stock a plant-based kitchen.
The 100+ recipes are divided into 7 chapters:
Breakfast – green smoothie, fruity oatmeal muffins, raisin apricot energy bars…

Soups, salads, and sandwiches – cream of carrot soup, rainbow cabbage salad, quinoa burgers…

Snacks, sauces, and dips – zucchini chips, artichoke tapenade, eggplant and red pepper crostini…

Veggies and sides – agaved carrots, corn bread dressing, teriyaki tofu…

Entrées – sushi in a bowl, Thai pasta, zucchini pie…

Breads – creamed corn bread, pumpkin bread, soft pretzels…

Desserts – candy cane winter bark, pecan pie truffles, rugelach…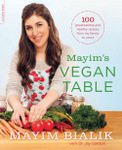 While it doesn't offer many surprises for long-time vegans, Mayim's Vegan Table is a good introduction to veganism for newbies, especially when there are kids involved.
Buy Mayim's Vegan Table: