Quick, easy recipes with a gourmet twist
Vegan cookbook review
Just because you have limited time doesn't mean you have to settle for salads and reheated soup – you can make delicious vegan meals quickly and easily with a good recipe and some time-saving tips. Speed Vegan offers all of that, from celebrity chef Alan Roettinger.
The first thing you need to cook efficiently is a well-stocked kitchen, and Speed Vegan provides a nice explanation of equipment broken down into three lists: must have, nice to have (what the author calls "hard time working without"), and fun to have (or "makes working more fun if you have"). The section on stocking the vegan pantry is equally helpful.
The first recipes, called Jump Starts, are what the author calls "pre-recipe recipes"; that is, simple condiments like garlic oil and sun-dried tomato paste that you make in batches and store until you need a tablespoon or two in a recipe. The main recipes are divided into chapters:
Snacks – hazelnut dip, papadums with fresh green chutney, eggplant and seitan sandwiches…

Soups – leek and cauliflower, navy bean and swiss chard, white bean with Tuscan kale…

Salads – cucumbers with pomegranate vinaigrette, dandelion and red onion, shoots and leaves…

Pasta and Grains – orecchiette with herb sauce, soba noodles with mushrooms, red palm rice…

Vegetables and Legumes – mushrooms-scallions-peas, asparagus with sesame seeds, blazing pinto beans…

Sweets – chocolate pots de crème, dried fruit compote, coconut-banana sorbet…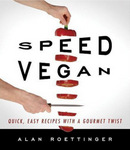 With black-and-white photos throughout plus 8 in full color, Speed Vegan will get you up to speed and preparing delicious vegan food in no time – actually, 30 minutes or less.
Buy Speed Vegan:

Author's website: Vegan Ascent