The Best Veggie Burgers on the Planet
101 globally inspired vegan creations packed with fresh flavors and exciting new tastes
Vegan cookbook review
While I wouldn't say that Joni Marie Newman's recipes make the best veggie burgers in the world, the author certainly deserves accolades for her creativity. As long as readers are willing to allow "burger" to include anything vaguely burger-shaped, they will be happily surprised by the sheer variety of recipes, including
Burgers for breakfast: Bacon and egg breakfast burger, Peaches and cream burger…

Burgers from the Far East: Chinese take-out burger, Wasabi burger…

Burgers from the Middle East: Baba ghanoush burger, Masa masala burger…

Burgers from the Boot: Pizza burger, Ravioli burger…

Burgers from the Heartland: All-American burger, Green castle sliders…

Burgers with Latin flavor: Jalapeño cornbread burger, Enchilada burger…

Burgers from around the world: Jamaican jerk burger, Swedish potato dumpling burger…

Burgers for the holidays: Oktoberfest kraut burger, Matzo burger…
Along with a chapter of loose "meat" sandwiches like No-tuna melt and Pulled pork, that totals 101 recipes. The remainder of the book is filled with accompaniments: condiments, sauces, buns, breads, sides, salads, and desserts.
As to the quality of the recipes, there is one major problem: more than a quarter of them are made primarily of TVP, an overprocessed and unhealthy ingredient. I recommend avoiding or reworking those veggie burger recipes.
If you're looking for interesting and unusual vegan burgers and aren't afraid to experiment to make them healthier, this is a fun cookbook.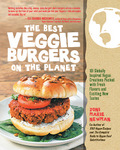 Buy The Best Veggie Burgers on the Planet:
Also by Jonie Marie Newman: 500 Vegan Recipes