A simple guide to feeling great, losing weight, and saving the planet
Vegan cookbook review
You probably know of Alicia Silverstone the actress, but did you know that she is an animal rights activist and committed vegan? Though some of the scientific studies mentioned in this book are of dubious value, there's some useful information and plenty of recipes for healthy, delicious, and cruelty-free food.
The Kind Diet combines an in-depth look at the reasons to be vegan with a range of mostly simple, mostly easy recipes. Part I: Kind versus Nasty, explains why meat, dairy, white sugar, and processed foods are bad for the body, soul, and environment. Part II: Living the Kind Life, describes how to go vegan, from flirting to becoming a superhero. There are also tips on equipping your kitchen and becoming an activist. Part III: The Recipes begins with tips for quicker weight loss and essential ingredients, then dives into recipes.
The first set of recipes are simple and quick, and are divided loosely into categories:
Grain and pasta dishes – radicchio pizza, rustic pasta, barley casserole…

Proteins – ginger-baked tofu, pecan-crusted seitan, mock chorizo tacos…

Soups, salads, and vegetable dishes – watercress-beet-heirloom tomato salad, Sicilian collard greens…

Desserts – chocolate peanut butter cups, lemon poppy seed poundcake…

Breakfast – date-apple-cinnamon oatmeal, whole wheat biscuits, traditional English breakfast

Snacks, drinks, and party food – guacamole bean dip, peach and mint iced tea…
Superhero Recipes, made primarily with whole foods, require more complicated meal planning, such as overnight bean soaking and/or the use of more exotic ingredients, like daikon and millet.
Grain entrées – toasted nori burritos, polenta casserole with seitan, thin mushroom pizzas…

Protein dishes – fruity French lentils, hijiki-tofu croquettes, azuki beans with kabocha squash…

Soups and salads – kinpira stew, magical healing "chicken" soup, cabbage-radish-cucumber salad…

Vegetable dishes – gingered green beans, arame turnovers, Cuban-style roasted sweet potatoes…

Desserts – plum soup, candied ginger pears, strawberry "Jell-O"

Breakfast and special drinks – soft rice porridge, mochi waffles, cure-all tea…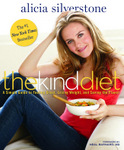 Buy The Kind Diet:
Author's website: The Kind Life