Florida's ultimate destination for vegan cuisine
Vegan cookbook review
The Sublime Restaurant Cookbook, by Nanci Alexander, offers an interesting, unusual collection of fusion vegan recipes.
Some recipes, like Pad Thai, Portobello Tenderloin, and Grilled Seitan Steak, are relatively complicated, but the end result is well worth it. Other recipes are simple and delicious, including Potato Pancakes, Onion Rings, Baby Arugula Salad, Chilled Cucumber Coconut Soup, and the various sushi options.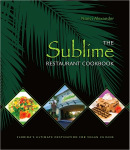 I haven't eaten at the restaurant, which is in Fort Lauderdale, FL, but with just 5 or 6 recipes from each category (sides, main dishes, salads, soups, etc), I'm guessing that this cookbook is just a sampling of the menu.
Buy The Sublime Restaurant Cookbook: