Celebration feasts for Thanksgiving through New Year's Day
Vegan cookbook review
For many people, certain foods are closely linked to specific holidays, like turkey for American Thanksgiving and black-eyed peas for luck in the new year. Unfortunately, for vegans and the people feeding them, the wonder of the holidays can too easily be overshadowed by worrying about what to eat. That's why Zel Allen's Vegan for the Holidays is so wonderful, filled as it is with delicious, gourmet vegan recipes, organized by holiday and guaranteed to make your end-of-the-year holiday meals memorable.
Each chapter begins with a brief introduction to the holiday before diving into seasonal appetizers, main course, sides, desserts, and drinks. Here are some of the highlights:
In Thanksgiving Gone Deliciously Vegan, you can start with Sesame appetizer balls or Tomatoes stuffed with edamame pâté, then move on to Curried kabocha soup or Pomegranate-apple salad before arriving at a main event like Thanksgiving phyllo pie, Pistachio and sweet pea torte, or Savory lentil terrine. Finish your meal with Apple crisp or Pumpkin tofu cheesecake and a mug of Pumpkin-apple nog.
Christmas Spirit Is in the Air suggests starting with a Tijuana tofu cocktail or Jolly green Christmas tree, followed by Cranberry soup or Pear and butternut bisque, and Spinach salad with beets and pomegranates. For a main course, you can choose between Tomato-pine nut pie, Shiitake tornadoes, Posole, and Savory chickpea Yule log. A selection of cookies (Wicked walnut, Almond thumbprint, Pistachio…) and Spiced cranberry nog round out the meal.
Hanukkah: A Celebration of Lights, Latkes, and Dreidels opens with Sweet and sour borscht or Mushroom-barley cholent, with a side of Carrot and sweet potato tzimmes. Potato latkes with tofu sour cream are not to be missed, maybe with some Horseradish coleslaw on the side. For dessert, consider Cranberry apple strudel or Pear and walnut compote with choco-wafers.
Reflections on a Vegan Kwanzaa emphasizes traditional African and African-American dishes like Curried pumpkin-peanut soup, Groundnut stew, Mac 'n' cheese, and Jamaican jerk tofu. There's also Southern cornbread and Okra creole, and for dessert, Sweet potato pie with cashew-ginger cream.
Happy New Year Soup and Chili Bash's selection of Two-finger tidbits like Skewered artichokes and Apple and bacon morsels are tasty enough to eat year-round. Also try Sweet potato puffs and New Year Logs in spicy pecan gremolata, followed by New year's resolution soup or Barn-burner chili. For dessert, there's Hazelnut-cranberry bread pudding and Cinnamon-peanut butter torte, and instead of champagne, you might drink Hot spiced cranberry punch, Brandied holiday nog, or Happy new year glögg.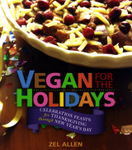 If you're looking for creative new recipes to make this holiday season the best ever, you can't go wrong with Zel Allen's Vegan for the Holidays. Buy it:
Author's website: Vegetarians in Paradise