125 easy, international lunches kids and grown-ups will love!
Vegan cookbook review
Tired of boring brown bag lunches? Then pick up a copy of Vegan Lunch Box Around the World. Rather than the dozens of sandwich recipes I was expecting, I found an impressive variety of easy to make and transport dishes from every corner of the globe. The 125 recipes, which are marked with symbols when they contain common allergens (corn, gluten, nuts, soy, and wheat), include all kinds of sandwiches, salad, dips, and sides, and then there are the main dishes: California rolls, mock chicken pot pie, pupusas (El Salvadoran dumplings), and mujaddara (Middle Eastern rice and lentils), just to name a few. Desserts include everything from chocolate muffins to Russian tea cakes.
Vegan Lunch Box Around the World also offers tips on packing lunches, as well as more than 40 pages of themed lunch menus based on regional recipes – New England, Japan, India, Hungary, Africa, etc.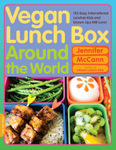 If your kids (or you) are tired of peanut butter and jelly for lunch, add some excitement with a rainbow of delicious vegan dishes.
Buy Vegan Lunch Box Around the World:
Amazon.com | Amazon.co.uk
Also see Vegan Lunch Box, by Jennifer McCann