Over 120 recipes to wake up your palate (US subtitle)
Food adventures for the contemporary palate (UK subtitle)
Vegetarian cookbook review
The title of Devra Gartenstein's vegetarian cookbook is eye-catching, and the content doesn't disappoint. This collection of 120 recipes offers unusual flavor pairings and unique presentation ideas – it's fun just to read through it.
A few of the especially interesting recipes found in this book:
Artichoke and goat cheese ravioli
Butternut squash barley risotto
Carrot pancakes with hummus
Lemon, almond, and white chocolate brownie
Rosemary popcorn
Sweet pea custard
Thyme pesto
Tomato and fig soup
Many of the recipes require unusual ingredients, and they can be labor intensive. If you're new to cooking or too busy to spend more than an hour in the kitchen, this is not the book for you. But if you love to cook and experiment in the kitchen, then you'll love this book. From appetizers to dessert, The Modern Vegetarian has suggestions for all kinds of delicious and unique dishes. Bon appétit !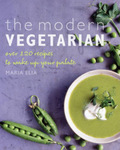 Buy The Modern Vegetarian:
Amazon.com | Amazon.co.uk
Devra Gartenstein, The Quirky Gourmet