Tofu combined with roasted red peppers makes a delicious veggie burger.
Yield: 4 servings
Time: 45 minutes
Tools
food processor
medium bowl
wooden spoon
medium frying pan or cookie sheet
spatula
Ingredients
¼ c roasted red peppers
1 pound extra-firm tofu, pressed and crumbled
1 clove garlic, minced
1 T fresh ginger, minced
½ t salt
¾ c bread crumbs
½ c sesame seeds (a mix of black and half white, if possible)
1 T olive oil
Directions
Place peppers in the food processor and blend until smooth.
Add tofu, garlic, ginger, and salt and pulse until well mixed and grainy.
Transfer to bowl, stir in bread crumbs, and let sit for 30 minutes.
Form the mixture into 4 burgers. If it's too soft to hold together, add more bread crumbs.
Coat with sesame seeds.
Heat oil over medium heat and cook the burgers for 4-5 minutes on each side, until heated through. Or oil a cookie sheet and bake at 400F for 10 minutes.
Notes
I guess these patties might resemble salmon as part of the "Ethnic Chic Far East 'Breakfast' " menu, in which it would be surrounded by vegetable rice rolls, mung beans, and miso soup, but on their own, there's just no passing this off as faux fish. But don't let that stop you: it is delicious, just misnamed.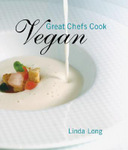 Adapted from chef Josef Huber's recipe for "tofu salmon" in Great Chefs Cook Vegan (read my review).
Buy it:
Help
Abbreviations | Conversions | Cooking tips