After years of dealing with hundreds of bookmarks, photocopies, and scraps of paper with scribbled recipes, I got tired of the chaos, and came up with a way to my recipes organized. Not only was I able to throw away all those scraps, but now all of my favorite recipes are searchable! So how did I do it? By installing the free program Evernote. I scanned or took photos of all the recipes and cooking will never be the same!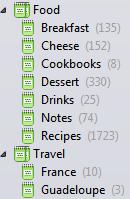 Evernote is available on all platforms as well as online, and all the versions will automatically sync, so you can for example add a recipe to your desktop and then access it a moment later on your tablet. You can use keyboard shortcuts to clip part or all of a webpage to your account, add photos and screenshots, import PDFs, or just type notes yourself. You can arrange files in notebooks and tag them, and then search by notebooks or name or tag.
Of course, you can also use Evernote for more than just recipes; I have notebooks filled with travel notes, movies that friends have recommended, and all kinds of other information that I used to keep on paper and in bookmarks.