by Robin Robertson
Vegan cookbook review
You can never have too many recipes, and with Robin Robertson's 1,000 Vegan Recipes, you'll be spoiled for choice. This giant cookbook offers a wealth of recipes divided into a dozen chapters:
Appetizers and snacks: cold (marinated mushrooms, spring rolls, sushi…) and hot (cheezy red pepper toasts, French onion pastry puffs, savory pancakes…)

Salads: quinoa salads, pasta salads, fruits salads…

Sandwiches, pizza, and more: wraps, burgers, fajitas, burritos, calzones, stromboli, and turnovers

Soups: vegetable broths, clear broth soups, hearty soups, cream soups, cold soups

Pasta and noodles: with fresh figs and walnuts, manicotti, sesame soba noodles…

Main dishes: 120 pages(!) of beans, grains, tofu, tempeh, seitan, vegetables, and stuffed vegetables

Vegetable side dishes: zucchini walnut fritters, baked squash, tzimmes…

Breads: yeast breads, quick breads, biscuits, muffins, scones, flat breads, crackers

Desserts: fruit desserts, "nice" creams, sorbets, granitas, sauces and frostings

Breakfast and brunch: casseroles, frittatas, pancakes, waffles, French toast, cereals, sides

Beverages: smoothies and blender drinks, festive beverages, coffee, tea, cocoa, spritzers and coolers

Sauces, relishes, and condiments: brown, tomato-based, other savory sauces, no-cook sauces, chutneys, pestos, salsa, relishes, marinades, rubs
Hundreds of the recipes can be prepared in 30 minutes or less; these are denoted with an "f" on the recipe page and also listed in a "Fast Recipes" index in the back of the book.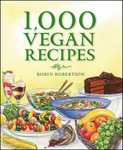 All in all, this is an incredibly varied selection of recipes for new and established vegans.
Buy 1,000 Vegan Recipes:
Author's website: Robin Robertson