Tangy, cheezy red pepper dip that you can use to make cute holiday appetizers.
Yield: about 20 toasts
Time: 20 minutes
Tools
2-inch cookie cutters
knife
food processor
spoon
Ingredients
8 thin slices of soft white sourdough or wheat bread
½ c roasted red peppers, cut into thin strips
1 c raw cashews
¼ c water
1 T soy sauce
¼ c nutritional yeast
2 T green onion, chopped
2 T balsamic vinegar
2 T olive oil
Directions
Cut the bread into shapes with cookie cutters, or into squares or triangles with a knife. Toast and set aside.
Grind the cashews into power, add water and soy sauce, and process until smooth.
Add half of the red peppers, purée, then add onions, yeast, vinegar, and oil and blend until smooth.
Spread each piece of toast with a spoonful of the dip, then top with red pepper strips.
Notes
As you can see, I took the lazy route and just cut the bread slices in half. If you do this, rather than use cookie cutters, you can use a heartier, whole grain bread.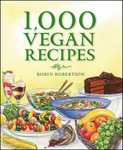 Adapted from the recipe for "Cheezy cashew-roasted red pepper toasts" in Robin Robertson's 1,000 Vegan Recipes (read my review).
Buy it:
Help
Abbreviations | Conversions | Cooking tips