From everyday to gourmet
Vegan cookbook review
One of the hardest things for many would-be vegans to give up is cheese, but for those who love to cook, Miyoko Schinner's Artisan Vegan Cheese can make the transition painless, delicious, and enjoyable to boot.
The short introduction offers an overview of culturing, a snapshot of the cheese-making process, and a warning that this book does not offer instant gratification. While most of the cheeses are easy to make, requiring only a few minutes of hands-on effort, their complex flavors come from the culturing process, which can be anywhere from a few hours to a couple of weeks.
The cheeses and cheese-related recipes are divided into nine chapters:
Artisan and aged cheeses – brie, boursin, sun-dried tomato and basil cream cheese, cashew chèvre, gruyère, fresh mozzarella…

Air-dried cheeses – gouda, cheddar, emmenthaler, parmesan, camembert, piquant nutty cheese…

Meltable cheeses – cheddar, monterey jack, mozzarella, muenster

Almost-instant cheeses – almond ricotta, tofu ricotta, farmer's cheese, smoked provolone…

Other dairy alternatives – milk, cream, yogurt, sour cream, heavy whipping cream

Cheese sauces and fondue – alfredo sauce, chipotle cheese sauce, cheddar sauce, cheese fondue…

First courses and small plates – caprese, chèvre-stuffed figs, stuffed squash blossoms, deep-fried cheese…

Entrées and accompaniments – baked mac and cheese, eggplant parmesan, chiles rellenos, gnocchi…

Sweets and desserts – raspberry mousse, no-bake cheesecake, tiramisu, blintzes, cheese danish…
At the end of the book, there's a list of online suppliers and glossary to help you stock your kitchen—and understand what you're buying.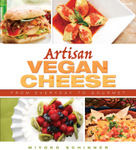 Making vegan cheese isn't for everyone, but if you enjoy cooking and experimenting in the kitchen, this book will keep you entertained and well-fed for a long time.
Buy Artisan Vegan Cheese, by Miyoko Schinner:
Author's website: Artisan Vegan Life