Simply stunning vegan desserts
Vegan cookbook review
The only thing better than a cookbook packed with delicious dessert recipes is one with pictures of the tasty treats, and Sharon Valencik's Sweet Utopia is truly one of the best I've found. With a color photo accompanying every recipe, you'll have a hard time choosing just one dessert to make at a time.
The variety of recipes is almost overwhelming: fudge, crêpes, brownies, scones, apple strudel, two different chocolate cakes, several mousses, numerous puddings, all sorts of cookies from chocolate chip to gingerbread, and just about every kind of cheesecake I've ever heard of and some I hadn't, including pineapple, chocolate, pumpkin, almond, and peanut butter.
There are also helpful sections on stocking your kitchen, ingredients, substitutions, and baking pan equivalents to help you when you don't have the right type or size of pan called for in the recipe.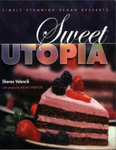 This is an extraordinary cookbook. You may have given up eggs and dairy, but Sweet Utopia means you don't have to give up any of your favorite desserts.
Buy Sweet Utopia, by Sharon Valencik: