by Jolinda Hackett, with Lorena Novak Bull, RD
Vegan cookbook review
The Everything Vegan Cookbook offers information and a variety of recipes for new vegans, or anyone interested in cutting down on their meat, dairy, and egg consumption. The first chapter, The Vegan Revolution, explains the benefits – both personal and global – of a vegan diet. It also talks about vegan nutrition, including the ever-present "protein combining" myth, and tips on creating tasty meals. Next come a dozen chapters featuring 300 recipes:
Appetizers, Sauces, and Dips – avocado-mushroom pot stickers, nutella (chocolate-hazelnut spread), vegan French onion dip…

Vegan Breakfasts – cereal bars, vanilla flax granola, whole wheat blueberry muffins…

Salads and Salad Dressings – two-bean salad, apple coleslaw, vegan ranch dressing…

Soups – cream of asparagus, shiitake and garlic broth, super "meaty" chili…

Vegetables, Stir-Fries, and Sides – Cajun collard greens, orange-ginger stir-fry, green bean amandine…

Rice Entrées and Sides – Italian white beans and rice, sun-dried tomato risotto, "cheesy" broccoli and rice casserole…

Classic Pastas – eggplant puttanesca, gnocchi with walnut parsley sauce, pad Thai noodles…

Whole Grains – millet and butternut squash casserole, quinoa-herb stuffing, "beef" and barley stew…

Miscellaneous Mains – polenta and chili casserole, tofu and portobello enchiladas, pumpkin and lentil curry…

Tofu – oven-fried "catfish," kung pao tofu, "chicken" nuggets…

Seitan, TVP, and Tempeh – southern-fried seitan, pineapple TVP baked beans, sweet and sour tempeh

Delicious Desserts – chocolate mocha ice cream, pineapple-cherry dump cake, oatmeal raisin cookies…
Most of the recipes can be prepared in less than an hour, and each one includes nutritional information: grams of fat, sodium, fiber, and protein, plus total calories. Protein comparison tables and recommended online resources round out the book.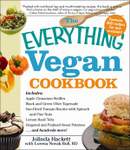 Buy The Everything Vegan Cookbook: