Recipes from the Natural Kitchen Cooking School
Vegan cookbook review
After realizing the health benefits and deliciousness of vegan and macrobiotic cooking, Christine Waltermyer decided to share her expertise with others by creating the Natural Kitchen Cooking School. The success of that venture led to the almost-eponymous cookbook The Natural Vegan Kitchen. In addition to combining the best of vegan and macrobiotic foods, many of the recipes in this book are gluten free or can easily be adapted.
Though the chapters are a bit on the short side (as few as 8 pages), there is a nice variety of recipes:
The Way of the Natural Vegan Kitchen
Discussion of the changes to the modern American diet and principles of macrobiotics

What's for Breakfast?
A handful of recipes to start the day, including granola, cornmeal pudding, tofu-veggie scramble, and gluten-free pancakes

Appetizers
Try fruit pizzas, blueberry salsa, and mushroom-leek phyllo purses

Nourishing Soups and Stews
Warm up with ginger-squash soup, corny chowder, vegetarian beef stew, or a variety of bean soups

Ballads for Salads
Creative combinations like green bean and beet, broccoli and carrot, and dandelion greens with vegan bacon

Spectacular Salad Dressings and Sauces
This chapter includes a list of ingredients for various effects (bitterness, pungency, richness, saltiness, sourness, and sweetness), followed by yummy dressings like lemon sesame, miso vinaigrette, and creamy pumpkin seed

Radiant Grains
Basic cooking techniques, plus recipes for things like zucchini rice patties with tartar sauce, mushrooom rice pilaf, and millet cauliflower mash

Savory Beans
Recipes from around the world, including French lentil salad, Boston baked beans, Italian white beans and greens, and chili con veggie

The Main Dish and Casserole City
From favorites like sloppy joes and tacos to fried seitan nuggets and enchilada casserole

Delectable Vegetables
This is the longest chapter, with around 2 dozen recipes, including baked onions, sweet potato melt, glazed Brussels sprouts, and spaghetti squash

Have Your Cake and Eat It Too!
Lovely vegan desserts like apricot mousse, jelled fruit, no-bake berry pie, and rice pudding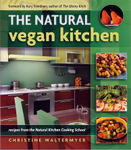 If you're interested in an overview of vegan and macrobiotic cooking, The Natural Vegan Kitchen will help you get started with some flavorful and healthy recipes.
Buy The Natural Vegan Kitchen:
Website: Natural Kitchen Cooking School