A creamy, lemony sauce that goes well with fried foods.
Yield: about a cup
Time: 5 minutes
Tools
Ingredients
1 c mayonnaise
1½ T relish or chopped sweet pickles
2 t onion, minced
2 t lemon juic
Directions
Combine everything in the bowl and mix well.
Notes
Try tartar sauce with Zucchini rice patties or Tofu nuggets.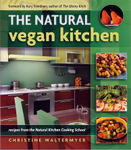 This recipe is from The Natural Vegan Kitchen (read my review).
Buy it:
Help
Abbreviations | Conversions | Cooking tips