A manual for great vegan cooking
Vegan cookbook review
Veganopolis Cafeteria was a vegan restaurant in Portland, Oregan until street crime forced its closure. But many of the recipes survive in The Veganopolis Cookbook, written by David Stowell and George Black.
The Veganopolis Cookbook starts out with some useful information about setting up your workspace, preparing ingredients and tools, essential ingredients, and cooking tips. The huge variety of recipes feature dishes from many cuisines, particularly French, and lots of vegan comfort food. They are divided into just eight chapters:
Stocks and Soups
Curried cauliflower with peas, cream of ratatouille, allium potage, pozole, potato and greens…

Salads
Black-eyed Betty, "ham" salad, taco salad, cabbage-carrot-parsley slaw, cranberry walnut salad…

Dressings, Sauces, and Gravy
Ranch dressing, cilantro-cashew-pesto spread, béchamel, barbecue sauce, various vinaigrettes

Breakfast Sensations
Pancakes, bread pudding, biscuits, cinnamon pecan rolls, hash browns, corned (no beef) hash…

Sandwiches
BLT, gryos, roasted eggplant, mock chicken Caesar, reuben, quinoa burger, mock tuna melt…

Vegan Proteins
Seitan, almondetta feta, almond pâté, mock chorizo, mock bacon, pine nut parmesan, corned "beef"…

Entrées and Sides
Red cabbage with apple sauté, Mexican rice, scalloped potatoes, ceviche, paprikash, portobello burgers, "coq" au vin…

Baked Goods
Many sweet and savory breads, cookies, crusts, crackers, muffins, and rolls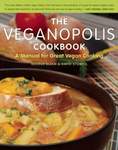 I particularly like the range of recipes in this cookbook, from basic to classic to veganized to unusual. There's a little something for everyone. I'm just sorry that I never got a chance to eat at the restaurant.
Buy The Veganopolis Cookbook:
Amazon.com | Amazon.co.uk
Website: Veganopolis