Red cabbage topped with sautéed apples makes a simple but flavorful side dish.
Yield: 8 servings
Time: 45 minutes
Tools
large saucepan
wooden spoon
apple corer
peeler or small knife
shallow bowl
large frying pan
spatula
Ingredients
¼ c margarine or light olive oil, divided
6 shallots, peeled and minced
2 T orange zest
1 T caraway seeds
¼ c red wine vinegar
1 head red cabbage, cored and chopped
black pepper
1 c heavy red wine
salt
2 Granny Smith apples
½ c turbinado sugar
Directions
Heat half of the margarine or oil over medium-high heat, add shallots, and sauté until softened, 2-3 minutes. Stir in zest and seeds and cook for 3 minutes.
Add vinegar to deglaze the pan and let simmer almost entirely away.
Stir in cabbage and pepper and cook, stirring frequently, for 10 minutes, until starting to soften.
Stir in wine and cook another 15 minutes, until cabbage is tender, then add salt to taste.
Meanwhile, peel and core the apples, and slice each one into 16 pieces. Place sugar in the bowl and press each apple slice in it to coat.
Heat the rest of the margarine or oil, add a single layer of apple slices, and sauté for a minute or two, just until they are golden brown.
Arrange cabbage on a plate and top with apples.
Notes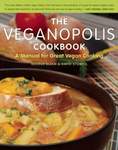 Adapted from the recipe for "Red cabbage with apple sauté" in The Veganopolis Cookbook – read my review.
Buy it:
Help
Abbreviations | Conversions | Cooking tips