by Nava Atlas
Vegan cookbook review
Soup is an amazing food. It nourishes, it comforts, it warms. It can be a light start to a long dinner, be hearty enough to stand alone as a complete meal, or even pass for dessert. And as Nava Atlas's Vegan Soups and Hearty Stews for All Seasons amply demonstrates, there are numerous delicious soups for any time of the year.
In the spring, Purée of Spring Greens and Parsley-Potato Soup put early vegetables to good use. To beat the summer heat, try a chilled soup like Zucchini and Corn or Cool as a Cucumber. Fall options include Curried Red Lentil Soup and Swiss Chard Stew, and winter favorites like Minestrone and Brazilian Black Bean Stew will warm you right to your toes. All told, there are 120 vegan soups, including some that require no cooking at all.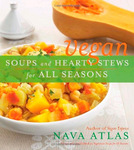 To provide the perfect accompaniment to your meal, there's also a chapter of recipes for bread, muffins, biscuits, and scones.
Buy Vegan Soups and Hearty Stews for All Seasons:
Author's website: In a Vegetarian Kitchen