More than 250 vegetarian and vegan recipes from the renowned Seattle restaurant
Vegetarian cookbook review
The Cafe Flora Cookbook, by Catherine Geier with Carol Brown, offers a delightful behind-the-scenes look at Cafe Flora's menu. This gourmet vegetarian restaurant has won numerous awards, including Best Brunch and Best Vegetarian Food, from Northwest Source, and Seattle Weekly Favorite Restaurants.
In looking through the Cafe Flora Cookbook, the first thing I noticed was that this is a cookbook for people who really like to cook, as many of the recipes are complicated and time-consuming. If you're just looking for "6 ingredient" or "30 minute" recipes, this is not the cookbook for you. On the other hand, if you love cooking as much as eating, the Cafe Flora cookbook can help you make a real feast.
A few of the especially interesting recipes found in this book:
Appetizer platters (Lebanese, Provençal, and Tuscan)
Black Forest Stew
French Dip Sandwich
Portobello Wellington
Pumpkin Enchiladas
Seitan Fajitas
Soba Salad
Tofu Reuben
Yam Corn Chowder
One of the things that I really like about this cookbook is the variety of "mock meat" recipes. It's pretty easy to make vegetarian versions of curry and stir fry, but it would never have occurred to me to try vegetarian alternatives to French Dip sandwiches or New England clam chowder. If you're not a fan of mock meat, don't worry – those recipes are in the minority.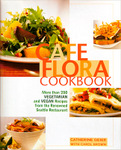 There are also a dozen pizza recipes, numerous soups and salads, and some lovely brunch options, including mock sausage and cheesy grits. Bon appétit!
Buy Café Flora Cookbook:
Website: Cafe Flora