250 simple recipes and dozens of healthy menus for eating well every day
Vegetarian cookbook review
When you think of gourmet recipes, you probably imagine long ingredient lists and complicated instructions. Fortunately, it is not only possible but downright easy to make many delicious vegetarian dishes with a handful of ingredients.
Nava Atlas's The Vegetarian 5-Ingredient Gourmet begins with lists of pantry, refrigerator, and freezer staples that will make simple meal preparation possible; tips on planning weekly menus; and a template for your weekly shopping list. All cookbooks featuring recipes with "only __ ingredients" have some that don't count toward the total number, but in The Vegetarian 5-Ingredient Gourmet they're limited to just water, salt, and pepper. The recipes, each of which includes nutritional information and menu suggestions, are divided into 11 chapters:
Simplicity in a soup pot – sweet potato soup, cold curried cucumber soup, rice-lettuce-mushroom broth…

Streamlined salads – greens with beets and walnuts, cranberry slaw, marinated beans…

Pasta, presently – Southwestern salsa pasta, ravioli with sweet potato sauce, spinach fettucine with summer squash…

The zen of grains and beans – fruity couscous, garlicky black beans, seitan peppersteak…

Essential soy – mushroom scrambled tofu, shake and bake tofu, sautéed tempeh cutlets…

A flash in the (pizza) pan – white pizza florentine, roasted pepper and artichoke pizza, Mexican pizza…

Rudimentary wraps – mashed potato burritos, refried bean and corn quesadillas, goat cheese and red peppers wraps…

Pared-down potatoes – leek and red pepper hash browns, colcannon (Irish potato and cabbage), broccoli and cheddar-stuffed potatoes…

Veggies on the side – cabbage and mushroom stir-fry, roasted Italian recipes, contemporary creamed spinach…

Simple sauces, dips, and sandwich spreads – cashew butter sauce, tofu and olive dip, spinach-miso pesto spread…

Fundamental fruits – fruit and yogurt parfaits, pineapple-orange mimosa, amaretto strawberries…
All in all, this cookbook does a good job of straddling the line between simple and sophisticated. Busy cooks will find no shortage of easy, quick, and delicious dishes to try.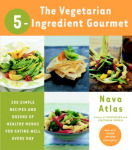 Buy The Vegetarian 5-Ingredient Gourmet:
Author's website: VegKitchen with Nava Atlas