Easy, fast, comforting cooking for every kind of vegetarian
Vegetarian cookbook review
Thanks to her public television cooking show, Toni Fiore is one of the best-known vegetarians in the United States. Her cookbook carries the same name as the show, Totally Vegetarian, and features 200 of her favorite recipes, as well as a wealth of information for vegetarian cooks.
The introductory chapters offer basic guidelines about ingredients, techniques, and tips on stocking your kitchen and pantry, making this an excellent resource for inexperienced cooks. Sprinkled throughout are anecdotes and information about food, shopping, and living in Italy and Germany.
There are lots of Italian recipes (pizza, pasta, focaccia), as well as a number of other influences (German, Greek, Caribbean, Malaysian…), plus some unique creations (arugula and fig salad, celeriac-garlic-ginger soup, eggplant meatballs). The 200 recipes are divided into a dozen chapters:
Light bites: appetizers, dips, and spreads
Salads and dressings
Soups and stews
Breads and pizza
Tofu
Tempeh and seitan
Pasta
Burgers and sandwiches
Vegetables
Potatoes, grains, and beans
Good mornings
Sweet finishes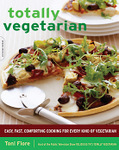 There's also a useful chart called "if you like… then try…" to help you find delicious vegetarian replacements for standard meat fare. For a nice variety of traditional and creative recipes, you can't go wrong with Totally Vegetarian.
Buy Totally Vegetarian: