This interesting chocolate pudding cake has numerous good points: it's vegan, low in fat, easy to make with kids, and delicious too.
Yield: 6-8 servings
Time: 1 hour
Tools
9×13-inch glass baking dish
2 bowls
hand mixer
rubber spatula
Ingredients
1 c white flour
1 c sugar, divided
½ c unsweetened cocoa powder, divided
2 t baking powder
½ t baking soda
¼ t salt
½ c soy milk
¼ c vegetable oil
1 t vanilla
½ c brown sugar (packed)
1½ c boiling water
Directions
Preheat oven to 350 and oil the baking dish.
Combine flour, ¾ c sugar, ¼ c cocoa, baking powder, baking soda, and salt. Gradually beat in milk, oil, and vanilla, then spread batter into baking dish.
In the other bowl, combine brown sugar with remaining sugar and cocoa powder. Sprinkle on top of the batter.
Carefully pour boiling water over the top.
Bake for 20-25 minutes, until pudding is set around the outside and the top is a little bubbly.
Let cool for 15 minutes to allow the pudding to thicken, then serve warm.
Notes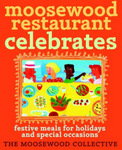 Adapted from The Moosewood Collective's Moosewood Restaurant Celebrates: Festive meals for holidays and special occasions.
Buy it:
Help