Easy East-West fusion recipes
Living food book review
If you're getting bored with your raw diet, it might be time to start traveling – with Ani's Raw Food Asia. This cookbook will amaze you with raw versions of classic dishes from China, Hawaii, India, Indonesia, Korea, Japan, Thailand, and Vietnam as well as the author Ani Phyo's inventive East-West fusion recipes.
Each recipe includes notes about its health benefits and where it's from. They are divided into 9 chapters:
Drinks
Salads and dressings
Pickles, condiments, and accompaniments
Sides
Soups and curries
Rolls, wraps, and pancakes
Noodles
Rice
Desserts
The final chapter, Menus, offers recipe combinations for various events, including brunch, picnics, potlucks, and weddings.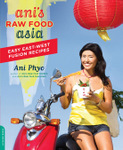 As in her other books, Ani provides all kinds of additional information about healthy, green living throughout Ani's Raw Food Asia, this time with a particular focus on lessons learned from the Eastern cultures whose recipes she highlights here.
Buy Ani's Raw Food Asia:
Amazon.com | Amazon.co.uk
Author's website: Ani Phyo
By the same author: