by Matthew Kenney
Raw food recipe book review
Is "raw food chef" an oxymoron? Can only cooked food be complicated and delicious? If you've got the time and experience to try some of Matthew Kenney's recipes in Entertaining in the Raw, then the answer is a resounding "no!"
Note that this is not a cookbook for newbies. Raw food preparation requires a number of techniques, such as sprouting and dehydrating, that "traditional" cooks may not be familiar with. In addition, a serious raw foodist needs some special kitchen tools, such as a heavy-duty juicer and a sprouter.
That said, Entertaining in the Raw offers some spectacularly diverse and delicious dishes. No one will believe that you didn't have to do any cooking for recipes like Pine nut tartlet with basil "crème fraîche" and sweet tomatoes, corn chowder, Jackson Pollack raviolo with arugula pesto, and Chocolate cake with sweet cherries. There are raw equivalents for rice, meatballs, yogurt, ice cream, and various cheeses.
Unfortunately, rather that the traditional chapter breakdowns (appetizers, soups, main dishes, desserts, etc.), Entertaining in the Raw is divided into 7 themes, including Inspiration, Radiance, and Meaningful. They're not all that meaningful to me, but it's not exactly a chore to page through the book while admiring the color photos and looking for the one that speaks to you. If you're ready for some gourmet raw food recipes, this is the book to try.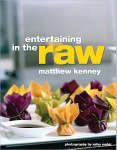 Buy Entertaining in the Raw:
Author's website: Matthew Kenney's Cuisine