Delicious raw recipes for radiant health
Living food book review
Peter and Beryn Daniel are raw food chefs and owners of a raw food store in South Africa. In the introductory section of Rawlicious, they emphasize the health and beauty benefits of a raw foods diet, include their own journeys and sections on food and health, macro- and micronutrients, and the basics of raw food (what they are, why to eat them, benefits). Additional topics: Health is not all about food, Transitioning to raw foods, Succeeding on a raw food diet, Growing your own food, and Stocking your kitchen.
The recipes are divided into 13 chapters:
Juices – Liquid Elixers: green alkalizer, mint-apple-aloe cooler, sunflower sprout health…

Smoothies: super-berry milkshake, chocolate smoothie, two-tone sunrise…

Nut Milks, Butters & Cheese: Brazil nut milk, macadamia nut butter, cream cheese…

Breakfasts: muesli, nutty fruit salad, pancakes…

Soups: broccoli and leek, mango-carrot-orange, liquid salad…

Salads: kale and baby spinach, three bean, sprouted quinoa…

Sauces & Dressings: cilantro pesto, sprouted chickpea hummus, almond gravy…

Sides & Snacks: marinated onions, broccoli chips, eggplant jerky…

Simple Meals: leaf wraps, sushi handrolls, stuffed bell peppers…

Breads & Crackers: Essene bread, flax-vegetable crackers, tortillas & nachos…

Gourmet Meals: quiche, sprouted chickpea falafel, beet & turnip ravioli…

Healthy Desserts: apple tart, chocolate love cake, banana & cashew ice cream…

Other Beverages: herbal infusions, iced frappacino, mint-coca-sesame tea…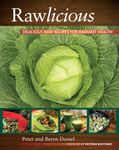 This is a book for serious raw foodists who have or intend to purchase high quality equipement like a Vitamix or other high-speed blender, a heavy-duty food processor, and a dehydrator.
Buy Rawlicious:
Authors' website: Soaring Free Superfoods