Make delicious and extra-healthy raw falafel with sprouted chickpeas. You have to plan ahead (a couple of days for the sprouts, 2 hours for the soaked nuts), but otherwise, this recipe couldn't be simpler!
Yield: about 24 falafel
Time: 20 minutes hands on, plus sprouting, soaking, and dehydrating
Tools
food processor
dehydrator
Ingredients
1 c sprouted chickpeas
1 c sunflower seeds
½ c almonds, soaked for 2 hours, then drained
½ c walnuts, soaked for 2 hours, then drained
¼ c onion, chopped
¼ c parsley, chopped
¼ c cilantro, chopped (or more parsley)
¼ c tamari
2 cloves garlic, minced
2 T olive oil
2 T lemon juice
1 t salt
½ t pepper
Directions
Process chickpeas, seeds, and nuts until finely ground.
Add remaining ingredients and process until well mixed but not puréed.
Take about 2 T of the mixture, roll into a ball, and set on dehydrator tray. Repeat with the rest of the mixture.
Dehydrate for 12 hours.
Notes
Serve with tahini sauce (shown) and/or sprouted chickpea hummus.
If you don't have a dehydrator, you can bake these at 175F for an hour – they won't be raw, but they'll still be delicious, and much healthier than fried falafel.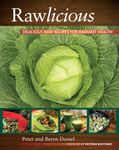 Adapted from the recipe in Rawlicious – read my review.
Buy it:
Help
Abbreviations | Conversions | Cooking tips