More than 100 crowd-pleasing recipes for bite-size eats everyone with love
Vegan cookbook review
There are plenty of cookbooks that explain how to make a great vegan meal, but what about when you're not planning to sit at a table? An array of finger foods is the perfect offering for stand-up, no-silverware-required occasions like cocktail parties and buffets, and that's just what you get in Vegan Finger Foods.
In the first chapter, Mind Your Manners: Eat with Your Hands, the authors offer some insights into why finger food is so appealing, tips on preparation and presentation, a glossary of uncommon ingredients, and an explanation of the icons found on the recipes:
Make Ahead
Quick & Easy (30 minutes or less)
Gluten-Free Potential
Chapter 2, Veggie-Centric Finger Foods, is a collection of recipes with vegetables as the main ingredient(s), like Cauliflower dip and chips, Marinated mushrooms, Lentil-endive cups, Mini bell pepper boats, and Potato puffs.
Chapter 3, Stuffed and Dipped, includes veggies stuffed with a variety of fillings that can be served with assorted sauces. A few highlights: Buffalo tofu, Sauerkraut-stuffed seitan, Bean taco cups, Jamaican jerk tempeh skewers, and Pot stickers.
Chapter 4, Bread-Based Bites, is an assortment of snacks like Smoky four-seed crackers, Savory scones, Pull-apart pesto bread, Spinach swirls, and Portobello BLTs.
Chapter 5, Sweet Little Somethings, rounds out the meal with cute little desserts like Ice lollies, Caramelized bananas, Cinnamon-glazed nuts, Vanilla cream tartlets, and Chocolate chunk cookies.
Menu Suggestions are 19 themed collections of up to 8 recipes organized by occasion (Mediterranean party time, Baby shower treats) or by dish (What a spread, Fruit lovers' buffet).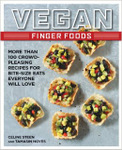 If you're always on the lookout for tasty, healthy, and vegan snacks, Vegan Finger Foods is just the ticket.
Buy Vegan Finger Foods:
Authors' websites