More than 50 delicious plant-based recipes for the ultimate comfort food
Vegan cookbook review
Finding the perfect vegan macaroni and cheese recipe is no easy task. Do you like it straight off the stovetop with just a creamy sauce, or do you prefer it baked with a breadcrumb topping? Is the simplicity of noodles and cheesy goodness your ideal, or do add-ins like vegetables make it more interesting for you? No matter how you like your mac and cheese, Robin Robertson's Vegan Mac & Cheese cookbook is sure to make you happy.
The introduction includes the story and timeline of macaroni and cheese; a list of restaurants around the world that serve some version of vegan macaroni and cheese; a discussion of vegan cheese, including incredients and tips for making your own; all kinds of info about pasta options; and plenty of ideas for toppings and add-ins.
Chapter 1: Basic Vegan Mac and Cheese offers recipes for mac and cheese made with your choice of tofu, cashews, or vegetable broth. There's also a baked version topped with Ritz crackers, a fancy version with truffle oil, and a clever dry mix that would make an excellent addition to any care package.
Chapter 2: Global Cheesy Macs features fusions with other cuisines like Thai, German, Greek, Mexican, and Ethiopian.
Chapter 3: Mac and Veggies suggests mac and cheese made with anything from squash, spinach, broccoli, or asparagus, to name a few. I loved the Roasted Garlic Mac and Cheese.
Chapter 4: Meaty Macs is a variety of hearty dishes made with mock meats like crab, BBQ jackfruit, Philly cheesesteak, or bratwurst. Recipes for many of the mock meats themselves are included, though of course you can use store-bought instead.
Chapter 5: Fun with Mac & Cheese offers instructions for serving in a mug, folding inside an omelet, turning into a waffle, or cooking in a muffin tin.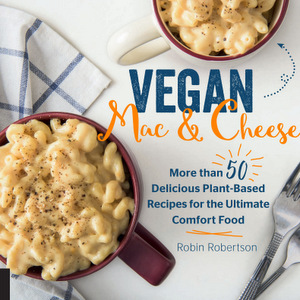 Buy Vegan Mac & Cheese, by Robin Robertson
More cookbooks by Robin Robertson