Delicious and eclectic food without meat
Vegetarian cookbook review
Unlike most chefs who know how to cook before starting restaurants, Simon Rimmer bought a vegetarian restaurant and then learned to cook. I've never had the pleasure of eating at either of his restaurants, but if the cookbook they inspired is anything to go by, they are undoubtedly excellent.
Other than a brief introduction about the author, The Accidental Vegetarian contains nothing but recipes, divided into six chapters:
Dips and morsels – Sticky rice and peanut balls, Tomato and mozzarella cakes, Patatas bravas…

Salads – Coronation chickpeas and potato; Pickled cucumber; Lemon, fennel, and oyster mushroom…

Small platefuls – Beet tart, Mushroom "rarebit," Pumpkin enchiladas with mole sauce…

Big platefuls – Black bean and eggplant chili, Wild mushroom pancakes, Moroccan spaghetti…

Side dishes – Stuffed pimentos, Parmesan-roasted parsnips, Pan haggerty…

Desserts – Strawberry soup, Cherry tiramisu cheesecake, Passion fruit tart…
With recipes from and inspired by cuisines all over the world, The Accidental Vegetarian offers a unique assortment of traditional and unusual vegetarian dishes.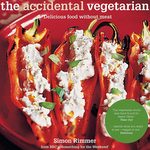 Buy The Accidental Vegetarian:
Author's restaurants: Greens | Earle by Simon Rimmer