Eggplants add texture and a great flavor to this hearty chili. The chocolate is an interesting touch, but can definitely be omitted if it sounds too weird.
Yield: 6 servings
Time: 40 minutes
Tools
plate
paper towels
large saucepan
wooden spoon
slotted spoon
Ingredients
½ c olive or vegetable oil
1 pound eggplant, cubed
2 red onions, minced
4 cloves garlic, minced
10 small red chiles, chopped
4 c tomatoes, chopped (canned ok)
1 t coriander
pinch cumin
pinch cinnamon
1 bay leaf
salt
pepper
9 oz black beans, soaked and cooked or canned/drained/rinsed
2 T dark chocolate, grated (optional)
Directions
Cover plate with paper towels and set next to the stove.
Heat oil over medium heat, add the eggplant, and sauté until softened, about 4 minutes. Set on top of paper towels to drain.
Add onions and garlic to remaining oil and sauté about 3 minutes, until soft.
Stir in chiles and sauté another 5 minutes.
Add eggplant, tomatoes, and spices and simmer for 5 minutes.
Stir in the beans and simmer another 15 minutes.
Mix in chocolate and serve.
Notes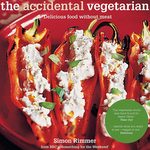 Adapted from the recipe for "Black bean and eggplant chili" in The Accidental Vegetarian – read my review.
Buy it:
Help
Abbreviations | Conversions | Cooking tips