If you're having a dinner party or some other event where you're hoping to impress people (especially if those people aren't vegetarian), try these gourmet vegetarian recipes – guaranteed to look beautiful and taste delicious.
Appetizers

Antipasto
Antipasto, which means "before food" in Italian, is a salad-like appetizer consisting of various fresh and pickled vegetables, cheeses, and rolled or sliced meats. For vegetarian antipasto, you can either substitute mock meat products or leave them out altogether.
Artichoke & Spinach Dip
Vegan version of classic spinach and artichoke dip. Serve warm with crackers, bread, or fresh vegetables.

Arugula Toasts
These elegant little appetizers are quick and easy to prepare and absolutely delicious.
Broiled Ricotta Gnocchi
Gnocchi are usually treated like a variety of pasta and served with sauce. But these broiled ricotta gnocchi are great served plain or as dumplings.

Caramelized Onions
To caramelize onions, you need to cook them for a long time in a bit of oil or butter. The hardest part of this recipe is waiting for them to finish!

Cashew Brie
A luxurious, very creamy cheese made from cultured cashew milk.

Cheesy Croutons
These warm and bubbly croutons go equally well with soup and salad.

Cheese Plate
Cheese plates can be simple or elaborate, with dozens of different cheeses or just a few. There's no one right way to make a cheese plate, but these guidelines can help you put together a cheese plate you and your friends will never forget.

Chestnut-Lentil Pâté
A rich and slightly sweet vegan pâté.
"Crab" Cakes
Delectable "crab" cakes made with tempeh and served with sherry sauce.

Crudités
A platter of crudités typically consists one or more types of raw vegetables served with one or more dips. These can be served as an appetizer, at a buffet, in place of a salad – the sky is the limit. Here are some ideas for interesting crudité platters.
Eggplant Caviar
A lovely, thick eggplant dip. Great with crackers, French bread, pita bread, or crudités.

Maki Rolls
Maki rolls are a vegetarian relative of sushi. This recipe calls for cucumber and avocado, but you can experiment with other ingredients as well.
Pâté
If you miss the taste of chopped liver, give this vegetarian pâté a try. You might even be able to fool your non-veggie friends.
Peach Salsa
A blend of sweet, sour, and spicy makes this peach salsa an unusual and delicious summertime condiment.
Red Onion Confit
A simple recipe that yields a delicious appetizer.

Roasted Red Pepper Dip
The first time I tasted this roasted red pepper dip, it was so good that I actually gasped.

Sun-Dried Tomato and Basil Cream Cheese
This savory, tangy vegan cream cheese is excellent on bagels or as a dip for raw veggies.
Sun-Dried Tomato Pâté
Looking for an elegant and tasty appetizer? Look no further – this is a real treat for even the most discriminating palates. Also try "red, white, and green" pâté.

Tapenade – Olive Dip
A typical Mediterranean dip, made mostly of olives and olive oil. Traditional recipes include anchovies, but there is absolutely no need for them here.
Truffled Hummus
Try adding truffle oil to extra creamy hummus for a gourmet treat.

Tuscan Bean Dip
This elegant bean dip is known as fagioli in fiasco, or beans in a bottle. Traditionally made in Tuscany in a Chianti bottle cooked in embers in a brick oven, this modern version is creamy and delicious.
Salads
Arugula Salad
Arugula isn't to everyone's taste, as it has a slightly spicy, peppery flavor. For those who can't get enough of it, this salad with toasted pine nuts will hit the spot.
Asparagus Salad
Asparagus, olives, mint, bell pepper, and onion – a nice mix for a summer salad.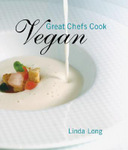 Bean Salad with Walnuts and Feta
When you cook your own beans, they are one of the healthiest things out there, and they are delicious with just a pinch of salt. They are also wonderful paired with feta and toasted walnuts, as in this simple bean salad.
Bell Pepper Salad
If you like bell peppers, this beautiful salad made of roasted green and red bell peppers from North Africa (Morocco and Tunisia) will be a real treat.
Caesar Salad
Yes, it is possible to make vegetarian Caesar salad, and with this recipe you'll never even miss the anchovies.

Caprese
This tomato-mozzarella-basil dish is my favorite starter; even though I make it myself regularly, I always order it when I eat out.
Chèvre (Goat Cheese) Salad
The contrast between the cool lettuce and the warm goat cheese and toast makes this a real treat in the summer.

Chickpea Salad
Warm chickpea salad with artichokes and sun-dried tomatoes – a real treat.
Fruit Salad
There's nothing like a bowl of fresh, sweet fruit salad in the summer. No one really needs a recipe for fruit salad, but here are some ideas to get you started.
Porcini and Fennel Salad
Porcini, fennel, and vanilla oil make a simple but stunning salad.
Sabzi – Herb Salad
If you grow your own herbs, this healthy salad is a great way to enjoy them… or show them off.

Sun-Dried Tomato Salad
This tangy dish is easy to prepare and is especially delicious in the summertime.
Tortellini Salad
A very simple yet surprisingly tasty salad, perfect as a first course or on a picnic.

White Bean Salad
This is a simple and delicious recipe, perfect for a summer picnic.

Winter White Bean Salad
I served this warm white bean salad at a dinner party and more than half the guests wanted the recipe. It is absolutely delicious and very easy to make.
Side Dishes
Crêpes
Crêpes are thin pancakes that can be wrapped around just about anything to turn it into an elegant meal, or just folded and topped with something yummy. Try some of these fillings and toppings, or experiment to invent your own.
Eggplant Rollatini
These elegant little eggplant slices rolled around cheese and herbs will impress everyone.
Garlic Mashed Potatoes and Parsnips
These aren't much more work than regular mashed potatoes, but they have a lot more flavor.
Grilled Tomato Sauce
This tomato sauce is quick and delicious. The rich flavor complements goat cheese and eggplant dishes.

Red Pepper Coulis
A coulis is a puréed sauce. Try this roasted red pepper coulis with soup, pasta, or tortilla chips.

Roasted Peppers
These peppers are tasty plain or with rice, bread, or pasta.
Potato Leek Gratin
Potatoes and leeks are one of those combinations that are just meant to be, and this gratin recipe is the perfect way to enjoy them.
Provençal Tomatoes
These stuffed tomatoes from southern France are delicious served with soup, pasta, or rice dishes.
Red Cabbage with Cranberries
A sweet-and-sour side dish that will brighten your table at Thanksgiving or any time of the year.

Roasted Vegetables
Roasting vegetables brings out all kinds of flavor and depth. This recipe is just a guide – feel free to add/subtract/substitute any of the vegetables.
Spanish Potatoes
If you like potato dishes, you'll love this Spanish potato recipe with saffron, almonds, and bread crumbs.

Stuffed Peppers
Serve these incredibly flavorful stuffed bell peppers alongside a green salad for an easy, colorful meal.
Stuffed Onions
Savory onions wrapped around a tasty filling make a unique main or side dish.
Stuffed Round Zucchini
They taste pretty much the same as their cucumber-shaped siblings, but small, round, green zucchini are much cuter. This easy recipe for stuffed round zucchini lets you enjoy the cuteness just a little bit longer.

Tomato Cheese Tart
An extremely simple dish that is always a hit. Everyone who eats it raves about the crust.
Vegetable Gratin
I don't know anyone who doesn't love gratins – there's something about the cheese/bread crumb layer on top that appeals to just about everyone. If this sounds like you, try this tasty way to use up some leftover vegetables.
Soups
Asparagus Leek Soup
A lovely, rich soup made with asparagus, leeks, and mushrooms and topped with a corn and bell pepper garnish.
Avocado Soup
Chilled soups are wonderful in the summertime, and they tend to be incredibly easy to prepare. This creamy avocado soup is no exception.
Bell Pepper Soup
A delicious, colorful soup that can be served hot or cold.

Carrot Vichyssoise
Rich, cold, and a lovely shade of orange, carrot vichyssoise swirled with a balsamic reduction will impress your friends and delight your tastebuds – only you will know how simple it is to prepare.
Cauliflower Soup
A flavorful and incredibly creamy yet entirely vegan soup, with a texture similar to that of a thin potato purée.
Cream of Broccoli Soup
A lovely green soup packed with vitamins and flavor.
Curried Carrot Coconut Soup
An incredibly flavorful vegan soup that takes only 15 minutes to prepare.

French Onion Soup
Traditional French onion soup is made with beef broth, but this vegan version is just as flavorful.
Garlic Soup
This garlic soup is as good as anything you've ever had in a restaurant – it is wonderfully rich and velvety.
Moroccan Chickpea Soup
Chickpeas and red pepper coulis make a fresh and flavorful soup.
Mushroom Bisque
A lovely, creamy vegetarian/vegan soup which is the essence of mushrooms.
Ocean Chowder
This is a rich and delicious vegetarian alternative to New England clam chowder.

Potato Leek Soup
There's something about the combination of potatoes and leeks in a creamy soup base – it's a terrific comfort food.
Potato Zucchini Soup
An easy, incredibly flavorful soup that tastes best just barely warm.

Raw Corn Chowder
Fresh corn is so sweet and delicious that there's no need to cook it.
Roasted Corn Soup
A great way to enjoy corn – this roasted corn soup is rich and spicy.

Roasted Leek and Carrot Soup
Smooth and delicious.
Roasted Vegetable Stew
Roasting brings out all the rich flavor and sweetness of veggies.

Sweet Potato and Corn Chowder
Sweet potato chowder with corn, peppers, and carmelized onions is a real cold weather treat.

Sweet Potato-Tomato-Chipotle Soup
Warm up quickly with this easy but flavorful vegan soup.

Vichyssoise
A simple combination of potatoes, onions, and milk that make a deliciously creamy, chilled soup.
White Bean and Tomato Soup
This white bean and tomato soup flavored with sage and thyme is an elegant alternative to minestrone soup.
Wild Rice and Cranberry Soup
An elegant soup made of wild rice and cranberries laced with sherry.
Breads
Buttermilk Biscuits
There's nothing quite like buttermilk biscuits hot out of the oven.

Cornbread
Hot cornbread is absolutely delicious topped with butter or cream cheese.
Dinner Rolls
I find that the nicest meals are always nicer with some bread in my hand, preferably warm from the oven. We don't have a nice bakery nearby, so I have to make my own rolls, and this is the simplest recipe I've found.
Hot Cross Buns
If you enjoy baking and have plenty of time, why not make some homemade hot cross buns? They're traditional during Good Friday, Easter, and Lent, but of course the recipe is just as delicious any time of the year.
Rosemary Focaccia
Rosemary focaccia, from Italy, is one of my favorite breads in the world, and the hardest part of this recipe is waiting for the dough to rise.

Sun-Dried Tomato and Olive Bread
Sun-dried tomatoes, olives, walnuts, and herbs combine in this Mediterranean-inspired bread.
Main Dishes

Chickpea Piccata
Chicken-free version of a classic Italian entrée: lemony, garlicky, capery chickpeas served over pasta or mashed potatoes.
Deep-Dish Potato Pie
If you're looking for a rich and elegant dish and aren't worried about calories, give this beautiful potato pie a try.
Eggplant Gratin
Eggplant layered with tomato sauce and topped with saffron custard makes an elegant and delicious main course.
Eggplant Parmigiana / Parmesan
This classic vegetarian dish is a perfect main course served alongside/atop plain pasta.
Eggplant Rollatini
These elegant little eggplant slices rolled around herbed ricotta will impress everyone.
Eggplant Zucchini Gratin
Layers of eggplant and zucchini with tomato sauce and custard make a delightful first or main course.
Fresh Pasta
Making fresh pasta takes less than an hour and you can't beat it for taste and texture. Kids will love the different color possibilities.
Grilled Vegetable Gratin
This hearty dish is made with pasta and grilled vegetables and topped with melted cheese.
Hazelnut-Crusted Seitan
Tender seitan with a crisp, nutty crust: so delicious you'll feel like saving it for special occasions, but quick and easy enough for any day of the week.
Imam Bayildi
Don't let this Turkish stuffed eggplant's prep time scare you – less than 20 minutes is hands on, and since it tastes best at room temperature, you can make it a day in advance. This recipe uses quite a bit less oil than traditional imam bayildi, but it's just as delicious.

Lasagne
Vegetarian lasagne is easy and delicious. Here's a variation on the classic red sauce version, with some extra vegetables.
Lasagne Florentine
Spinach lasagna, sometimes called lasagne Florentine, is a classic vegetarian dish made with a creamy white sauce, cheese, and vegetables.
Leek Gratin
Serve leeks baked with several cheeses and a bit of cream over flavorful pasta or rice for a rich and delicious treat.
Moussaka
Moussaka is a Greek dish traditionally made with lamb or beef. This vegetarian / vegan moussaka recipe uses portobello mushrooms and seitan instead. A rich and delicious main course.
Mushroom Goat Cheese Lasagna
This is a beautiful, elegant, and somewhat complicated lasagna, which makes it perfect for a dinner party.
Mushroom Lasagne
Three kinds of mushrooms combine with cheese, garlic, and pasta into a lovely main course.
Mushroom Risotto
Wild mushroom risotto is earthy and unbelievably rich. It takes some time at the stove, but is well worth it for a special dinner.
Mushroom Strudel
Working with filo dough is not as difficult as you might think, and this elegant mushroom dish is well worth the effort.
Pissaladière
Pissaladière is an onion pizza or onion tart from Provence. Traditionally made with anchovies, this vegetarian pissaladière is spiced up with tapenade instead.
Paella
A Spanish dish traditionally made with meat and shellfish. This flexible veggie version is simpler, but no less delicious.

Roasted Seitan
Seitan and onions roasted in balsamic vinegar make a quick recipe for a hearty and delicious cold-weather dish.
Seitan Braciole
Tender seitan rolled around tofu ricotta, herbs, and onions, then baked in tomato sauce. A bit complicated, but worth it!

Seitan with Herby Wine Sauce
Creamy sauce over crisp seitan makes a delicious and romantic meal.
Sweet Potato Gratin
Sweet potatoes layered with black beans, rice, and spinach make a hearty, healthy main course.

Tofu Milanese
Crisp, flavorful tofu served with salad is an excellent vegetarian replacement for chicken milanese.

Winter Squash Risotto
Risotto isn't difficult to make, but it does require a lot of standing at the stove, stirring away. The end result, however, is delicious and a wonderful comfort food.

Zucchini Parmigiana
One of the most delicious ways to use zucchini that I've ever found, and it's quick and easy too! This dish is perfect for parties and pot lucks, because you can make it the day before and it tastes great whether hot or at room temperature.
Zucchini Rollatini
Simple but stunning: roasted zucchini slices wrapped around herbed ricotta and served on a pool of warm tomato sauce.
Desserts
Berry Cobbler
This is one of my favorite desserts of all time. It's also lovely with a cup of tea for breakfast or a mid-afternoon snack.

Cashew Cardamom Cupcakes
Cashew butter frosting on top of little cashew butter cakes… how can you go wrong?
Chocolate Hazelnut Cookies
Crispy, sweet, delicious vegan cookies!
Chocolate Mocha Cake
I developed this recipe with a friend about 10 years ago. It's extremely rich and fattening, but well worth every calorie.
Chocolate Mousse
This has got to be one of the easiest and most delicious desserts that exists. Many chocolate mousse recipes call for gelatin; not this one!
Chocolate-Nut Candies
These delicious chocolate-nut candies are easy to make and will keep for two weeks (if they last that long!)
Chocolate Peanut Butter Cake
A delicious, rich, warm chocolate cake with a hint of peanut butter that tastes even better when served with berry sauce and/or vanilla ice cream.

Dessert Crêpes
Whether you fill them, top them, or both, sweet crêpes make the ultimate elegant dessert. Once you've whipped up the batter, the hardest part is figuring out the perfect combination of fillings and/or toppings for your own personal sweet tooth.
Frozen Anisette Soufflé
Frozen soufflés make a nice, light dessert after a rich meal. This recipe calls for anise-flavored liqueur, but you could use another flavor like orange or hazelnut instead.
Ginger-Brandy Cheesecake
Sweet, rich cheesecake with a ginger snap crust and orange glaze.
Lemon Mousse
Light and tangy; perfect after a heavy, rich, or spicy meal.

Minonos
A vegan version of Milanos®, Pepperidge Farm's® crisply rich and elegant chocolate sandwich cookies.
Mock Mincemeat
Make a big batch of vegetarian mincemeat so that you can make a few pies and have some left over to serve with ice cream, custard, pudding, or crêpes. You can also can or freeze it for later.
Orange Sorbet
Light, refreshing, and 100% vegan. Can be made with lemons or berries too.

Peanut Butter Cheesecake
A smooth and creamy peanut butter filling with a dense brownie crust. And it's vegan!
Plum Pudding
Plum pudding is a traditional Christmas dessert in the UK, and is normally made with suet. Julia Child's version shows that there's no reason plum pudding can't be vegetarian.
Plum Sorbet
Sweet, tart, and very "plummy," this plum sorbet is made without an ice cream machine.
Rhubarb Cobbler
When you add just the right amount of sugar, rhubarb cobbler is divine – especially for breakfast.
Strawberry Rhubarb Pie
Not too sweet, not too tart, strawberry rhubarb pie is one of the best summer desserts.
Strawberry Sorbet
When it's hot out, a cool strawberry sorbet really hits the spot.
Vegan Pumpkin Cheesecake
A sweet, creamy blend of pumpkin, tofu, cashews, and banana, topped with candied pecans.
Drinks
Bloody Mary
If you crave the spiciness of a bloody mary but don't want the alcohol, try this tasty variation – or make the real thing.
Ginger Ale
Homemade ginger ale is easy to make and much more "gingery" than anything you can buy at the store.
Lassi
Lassi is a sweet Indian drink made from yogurt – it's perfect for cooling your mouth while eating spicy food.
Minty Lemonade
This tangy lemonade is so refreshing, you'll want to drink it all summer.
Sangría
This traditional Spanish drink goes well with spicy foods, is delicious in summer, and works well as a party punch bowl. There's also a non-alcoholic version that kids will love.
Sparkling Juice
When you feel like having something a little more special than plain old juice, try this sparkling juice recipe.