Creamy sauce over crisp seitan makes a delicious and romantic meal.
Yield: 4 servings
Time: 20 minutes
Tools
Ingredients
Directions
Start making the sauce.
While it's simmering, fry the seitan.
Finish the sauce while the seitan is draining.
Arrange the seitan on plates and top with sauce.
Notes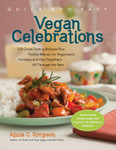 Adapted from the recipe for "Panfried seitan with white wine herb sauce" in Alicia C. Simpson's Quick and Easy Vegan Celebrations (read my review).
Buy it:
Help
Abbreviations | Conversions | Cooking tips