150 Great-Tasting Recipes Plus Festive Menus for Vegantastic Holidays and Get-Togethers All Through the Year
Vegan cookbook review
It's fairly easy to find vegan recipes for major holidays like Christmas and Thanksgiving, but what about the rest of the year? In Quick and Easy Vegan Celebrations, Alicia C. Simpson comes to the rescue with menus for 14 holidays and special occasions:
New Year's Eve – beer-battered green beans, black-eyed peas, gingered champagne cocktail…

Game Day / Superbowl – spicy seitan burgers, loaded potato skins, nachos…

Valentine's Day – seitan with herby wine sauce, red velvet cupcakes, sweetheart sangría….

Mardi Gras – gumbo, dirty rice, king cake…

St. Patrick's Day – Irish soda bread, "fish" and chips, Irish cream liqueur….

Easter – broccoli frittata, hidden treasure muffins, parmesan-roasted asparagus…

Cinco de Mayo – huevos rancheros, taco soup, margaritas (classic, pineapple, or frozen mango)…

Independence Day / 4th of July – BBQ baked beans, grilled corn with herbed butter, pride punch…

Halloween – severed fingers, ghost sandwiches, dirt and worm cupcakes…

Thanksgiving – tourkey cutlets, pumpkin gingerbread, raw sweet potato pie…

Hanukkah – portobello brisket, cauliflower latkes, sufganiyot…

Christmas – hazelnut-crusted seitan, green bean casserole, mulled pomegranate cider…

Kwanzaa – North African meatballs, sautéed collard greens, jollof rice…

Birthday sweets – carrot cake with cream cheeze, key lime cupcakes, classic white cake with buttercream…
As the title says, the recipes are quick and easy, so even inexperienced cooks shouldn't have trouble. But just in case, the holiday menus are rounded out with several chapters covering the essentials of kitchen tools, ingredients, and basic cooking techniques. Happy holidays!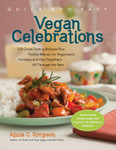 Buy Quick and Easy Vegan Celebrations:
Also by Alicia C. Simpson: Quick and Easy Vegan Comfort Food

Author's website: The Lady and Seitan