A creamy, herby, winey, vegan sauce.
Yield: about a cup
Time: 15 minutes
Tools
small saucepan
wooden spoon
Ingredients
1 T olive oil
1 small shallot, thinly sliced
¼ t salt
2 cloves garlic, thinly sliced
1 c vegetable stock
½ c dry white wine
2 T cashew cream
2 t fresh thyme
2 t fresh marjoram or rosemary, minced
pepper
Directions
Heat the oil, add shallot and salt, and sauté for 2 minutes, until softened. Add garlic and sauté another 30 seconds.
Add in stock and wine, bring to a boil, lower heat, and simmer for 5 minutes.
Stir in the cream and continue simmering until slightly thickened, 2-3 minutes.
Remove from heat and stir in herbs and pepper.
Notes
Herby wine sauce is delicious with pan-fried seitan and oven-fried tofu.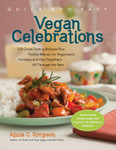 Adapted from the recipe for "White wine herb sauce" in Alicia C. Simpson's Quick and Easy Vegan Celebrations (read my review).
Buy it:
Help
Abbreviations | Conversions | Cooking tips